County will keep local Health office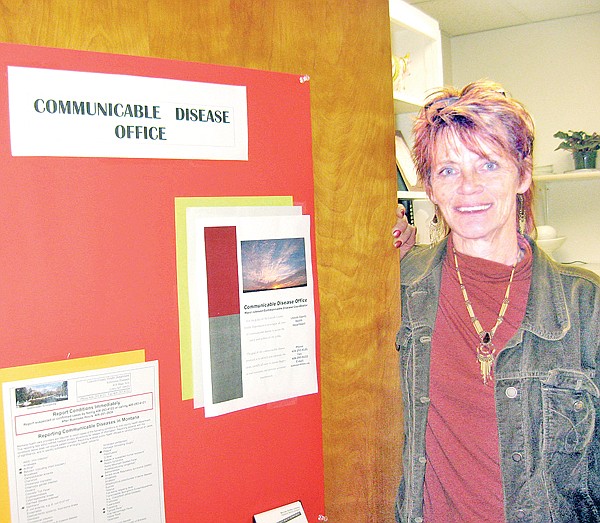 <p>Marci Johnson, the communicable diseases officer at the Libby office, has been retained for six months.</p>
by
The Western News
|
January 3, 2012 10:11 AM
Affects communicable diseases staffer only
Citing the need to aid County Nurse Micki Carvey cope with the recent outbreak of Hepatitis C, the Lincoln County Commission has elected to retain the services of Communicable Diseases officer Marci Johnson for six months.
The Libby office of the Lincoln County Health Department had been ear-marked to shut its doors on Friday, Dec. 30, as the county sought to trim its budget.
The local office, at 418 Main St., was tabbed for closure in at the end of the year in September with the then-impending retirement of County Nurse Karol Spas on Nov. 11. Commissioners have said the services offered at the clinic have become unnecessary as a result of services offered at St. John's Lutheran Hospital and other area clinics, but that has all changed now with the recent hepatitis outbreak.
"We have agreed to keep that office open as we transition from one County Nurse to another," said Presiding Commissioner Marianne Roose.
"We will keep the Communicable Diseases (staffer) for six months to June 30 to help as we transition to Micki Carvey, who I think is very competent."
Roose was asked whether six months from now the office would again be re-evaluated, and she was non-committal.
"Right now, this is to help with the Hepatitis C outbreak and to assist in the transition."
Johnson, the communicable diseases officer, is required by state mandate to report quarterly on the spread of diseases in Lincoln County. Without Johnson, that task would fall upon Carvey in her Eureka office.
"Everyone has kind of rallied around, and we have (decided) to keep the contagious division department," Carvey said last week.
Carvey said position here in Libby would be only for three days a week, a fact confirmed by Roose.
"It's for 24 hours a week," Roose said.
As Carvey transitions into the county's top public health officer, she understands there is much that needs to be done.
"It's kind of a work in progress," Carvey said. "I respect that money is tight, but we also have to do what we need to do to protect the community. I think all is going well. I regret we're going to lose staffers, but it was necessary to tighten the belts a little bit," Carvey said.
Johnson, the communicable diseases officer, said she is happy to know she still has a job after the First of the Year, and said what she does is both important to Lincoln County and to the state.
"We have an outbreak, and we need to do what we can to control it. Plus, we're required by the state to report communicable diseases."
The office is conducting a free Hepatitis C screening from 8 a.m. to 4 p.m. Thursday at the Libby Health Department clinic at 418 Main St.
For more information, contact Johnson at 293-4121.
---