New deer, elk guidelines are available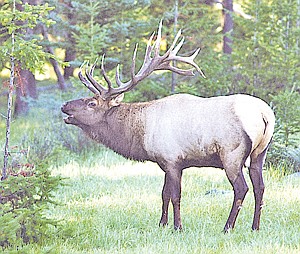 |
February 24, 2012 10:09 AM
Along with the new March 15 deadline to apply for 2012 deer and elk hunting permits, the new streamlined eight-page application packet — that contains all the information residents need to apply — is now available at all license providers, Montana Fish, Wildlife & Parks offices and online at fwp.mt.gov.
The new deadline was approved by the Montana FWP Commission in response to hunters' requests for more time to plan their fall deer and elk hunts, according to FWP spokesman Ron Aasheim in Helena.
"The new packets also offer a fast and convenient way to identify hunting districts where buck deer and bull elk permits are available," Aasheim said.
"Hunters have consistently asked FWP to make things simpler and easier to understand, so we attempted to boil down all the permit application essentials into a brief packet. It's different, so we're urging hunters to go online or pick one up locally to get accustomed to the new format."
Aasheim said more than 80,000 applications have been printed and distributed statewide to FWP license providers. "We're also reaching out to more than 86,000 hunters who participate in the bonus point system with direct mail postcards to alert them of the new March 15 deadline and easy-to-use deer and elk application and information packet."  
As in past years, Aasheim said a 2012 elk license is needed to apply for a special elk permit. But also new this year, to accommodate the new application deadline, elk licenses are now on sale for residents. In past years, elk licenses were not available for sale until mid-February.
"People are busy and they're seeking more convenient ways to participate so we're trying to be responsive to those needs," Aasheim explained. "Most Montana hunters are used to their hunting regulations arriving in April, but today they can pick up a new application packet and begin to plan now and then apply for their deer and elk permits by March 15."
Successful applicants will receive their permits in April and, as a result, have three extra months to make preparations for their fall hunts.
 "Everything needed to apply is in the new application and information packet," Aasheim said.
Aasheim noted Montana's final deer and elk regulations—including those listed as pending in the deer and elk permit application packet —will be finalized by the FWP Commission on Feb. 16.  The Commission's action on the pending hunting districts in the deer and elk application packet will be available online Feb. 17.  He said 2012 regulations will be posted online by March 15, and hard copy regulations will be on the shelf at FWP offices and local licenses providers by April 1. Hunters who'd like to review Montana 2011 regulations can do that online at fwp.mt.gov. Click the "For Hunters" tab. 
Nonresidents who wish to apply for big game combination, elk combination or deer combination licenses and deer and elk permits for the 2012 fall Montana hunting season can also apply online or download an application from FWP's website.
To request an application by mail, write to:  Licensing Section; Montana FWP; P.O. Box 200701, Helena MT; 59620-0701; or call: 406-444-2950. The application deadline is March 15.
---