Troy Trojans Boys Divisional Summary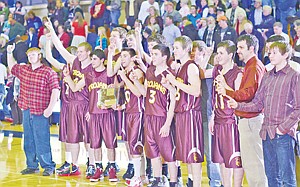 <p>7-B District Champions</p>
by
The Western News
|
February 23, 2012 2:03 PM
The Western News
    It what was contest for the ages, the Troy Trojans battled the Ronan Chiefs through eight periods of play — through four overtimes — in the Class B Divisional High School Basketball Tournament in Hamilton on Wednesday only to come out on the losing end of a 77-69.
   It was a game in which Troy led after the first quarter; Ronan led at the half, and the Trojans led again after three quarters.
   In the final quarter, Troy maintained a lead, but Ronan's offense came alive to score 14 points to force the overtime.
   For three extra stanzas, the teams matches scores: 10-10; 12-12, and 6-6 to force the fourth overtime.
   The Trojans, however, could not keep pace and were outscored in the fourth overtime period, 11-3, to take the loss.
   On Thursday morning, Troy battled Eureka in its first game of the consolation bracket, but the Trojans ended their season with a 63-53 setback.
---