Robert I. Schliep 96, of Libby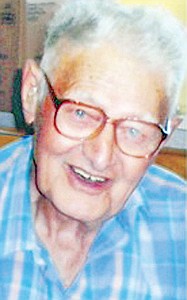 by
The Western News
|
February 5, 2012 4:00 AM
Robert Irwin Schliep, 96, passed away from
natural causes at his home, Monday, Jan. 30,
2012. 
He was born on Aug. 10, 1915 at Swift County,
Minn., on the old homestead, to Herman and Louise (Willie)
Schliep. 
He grew up in Minnesota, worked on the farm and
graduated 8th grade.
At the age of 19, with $5 in his pocket, he
headed to Opheim, Mont. 
There he lived with his aunt and uncle, he
returned to high school, and graduated at the age of
21. 
He took four years of high school in three
years. 
While at Opheim High School, he met his future
wife, Rose Novacek. 
After graduation, he went to Butte, Mont., and
worked in the copper mine. 
From there, he went back to the farm for one
year. 
Afterward, he headed to California for four
years. 
There he had his own car-wash
business. 
In 1940, he went to Alaska to work in the gold
mines for one year.
He then returned to California and worked in
the shipyards during the war. 
While in California, Rose came through on the
train. 
They went to Reno, Nev., and were married July
15, 1942. 
They made their home in Oakland, Calif., for
eight years.
While there, they had four daughters: Karen,
Sharon, Corliss and Connie. 
In 1950, the family moved to Stevens County,
near Hancock, Minn., and lived on a dairy farm for 13
years. 
In 1964, the family moved to Libby, Mont., and
opened the Mother-Daughter Beauty Salon. 
Bob went to work for Bob Fritz at the Conoco
gas station. 
Later he worked at Valley Motors for Bill
Armstrong until he retired at the age of 85. 
Bob and Rose spent 28 years "wintering" in
Arizona during the time at Valley Motors.
Bob was preceded in death by his wife, Rose;
his parents; his brother Elmer Schliep and sister Esther
Sloneker.
Bob is survived by his daughters Karen Albu and
husband, John, of Alexandria, Minn.; Sharon Tayler of Montana;
Corliss Nelson of Libby, Mont.; Connie Thomson and husband, Collin,
of Libby, Mont.; 21 grandchildren; 32 great-grandchildren, and
seven great-great-grandchildren. 
He was dearly loved and will be greatly missed
by many.
Services for Bob will be at 1 p.m. Saturday,
Feb. 4, 2012 at St. John Lutheran Church, 1017 Montana Ave. in
Libby. 
Visitation will be from 1 to 8 p.m. Friday,
Feb. 3, 2012 at Schnackenberg & Nelson Funeral Home, 422 W. 2nd
St in Libby, Mont.
---