Mildred E. Johnson, 75, of Libby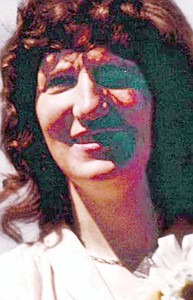 |
August 29, 2012 11:46 AM
Mildred Ellen Johnson, 75, a lifelong resident of Libby passed away Friday, Aug. 24, 2012, at Libby Care Center.  
She was born Oct. 18, 1936, in Libby to Walter T. and Mable Ellen Johnson.  
She married Donald A. Johnson on Sept. 3, 1955.  Even after 43 years of marriage, they still called each other "Honey".
Millie was a longtime member of Libby Christian Church.  Her favorite hobbies included painting, collecting antiques, and giving her grandchildren and great-grandchildren big "bear hugs."  
She was preceded in death by her husband Donald Johnson; her sister Annie Williams; and her brother Billy Bob Boothman.
Survivors include her four sons, Donald Johnson and wife, Colleen of Missoula, Mont.; Steven Johnson and wife, Colleen of Columbia Falls, Mont.; Clayton Johnson of Libby and Christopher Johnson and wife, Renee of Troy, Mont.; a sister Marilyn Edwards of Libby; 12 grandchildren; 16 great-grandchildren; and many nieces and nephews.
Services will be held at 11 a.m. Thursday Aug. 30, 2012, at Libby Christian Church, 100 Kootenai River Road.  
Visitation will be 1 to 8 p.m. Wednesday Aug. 29,  at Schnackenberg & Nelson Funeral Home, 422 W 2nd St. in Libby.
---