Loggers hope new offense will barrel over Badgers in debut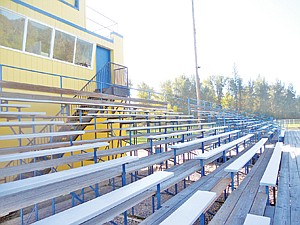 When a football team is smaller than its opponents, it must get creative to avoid being clobbered.
Cue Offensive Coordinator Kyle Hannah installing the play-me-honest veer offense, a triple-option attack balanced between split backs meant to minimize unfavorable matchups from larger defenses.
Head Coach Neil Fuller, in his 10th year as coach, explains that the new offense is one tailored for his personnel.
"We're not real big up front," Fuller said. "We're starting three sophomores and two juniors on the offensive line, and they are all pretty green. The split-back veer offense will compliment our passing game."
Passing is one thing the Loggers have down. Jared Winslow, junior quarterback and ace pitcher for the Libby Legion baseball team, is returning after sharing duties with 2012 alumnus Micah Germany last season. His arm, and the combined running-back efforts of (to name some) seniors Austin Bailey, Marcel Getz and juniors Skyler Higareda and DJ Maefau will spread out the offense.
"We don't have size, but we have good athleticism," Fuller said. "This offense fits well with the type of kids we have."
Those four running backs will play on the other side of the ball as well, teaming up with junior Josh Bowers as defensive ends. 
The big body to watch defensively is Kraig Nelson, who will start on the defensive line but is athletic enough to play defensive end or even work as a blocking/screen running tight end.
Fuller has four non-league games to get Hannah's offense running smoothly and fit his personnel into the right slots. His team will get its first test 7 p.m. Saturday against Bonners Ferry.
The Badgers bring new coach, Casey McLaughlin, and a spread offense to Libby to try and recoup from last year's 3-6 season.
Fuller expects little relief from the league schedule this year, even from Frenchtown, which has big bodies on the lines. Perhaps his concerns are justified, as Polson returns much talent from last year's team that spanked the Loggers 46-7.
Expect a Libby team, if it can work out the kinks of a new offense and avoid the problems associated with it's small size, to return to the brink of playoffs or further. 
---