Nordicfest royalty steps to the forefront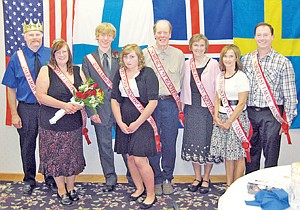 The Western News
For Sarah Hardgrove, being involved with the yearly Nordicfest Coronation Dinner has been a rite of passage since she was a child. Her mother used to don her in ethnic dresses representative of the Scandanavian region and over time she just gradually became enthralled with the event. 
"Being involved with this brings back very fond memories for me," said Hardgrove, who served as the director of souvenirs and archives. 
"I moved away, but always remained involved with it because I truly love it. It's a wonderful event, and I've always liked it."
The dinner, which was held Saturday at Libby City Hall's Ponderosa Room, is a celebration of the Nordic heritage shared by scores of local residents, as an estimated 100 persons attended.
Those attending witnessed the coronation as John and Barb Desch who were selected as King and Queen. Spencer Wilson was recognized as the Nordicfest Prince as Brittany Jorgensen of Fortine was named Princess. John and Kris Jeresek were named the Kootenai Knute and Mrs. Knute, and Frank and Cheri Lucas were named Parade Marshals for the Sept. 7 to 9 event.
In addition to crowning a prince and princess, the dinner provided an opportunity for locals to mingle, swap neighborhood stories, and share a communitywide love and appreciation for their Nordic roots. 
The dinner featured a buffet-style meal, ethnic songs performed by the group Sons of Norway, a drawing and door prices, along with the actual coronation that concluded  the evening. 
Les Nelson, the program's director, said he loves the fellowship afforded by the event as well as the opportunity to share the love and respect he has for his Swedish heritage.
"It's pretty exciting and it takes over the town," Nelson said. "The people here have a very similar love for their culture as they do back in my native Minnesota."
While the area's Nordic population pales in comparison to the well-founded Nordic culture of his home state, Nelson said the people here are just as enthusiastic and excited about exploring their individual roots, regardless of whether those ethnic ties can be traced back to Norway, Sweden, Finland or Denmark.
"It's really remarkable that in  a small town like this we have the same kind of appreciation for heritage," Nelson said." The event seems to be more enjoyable each year and it's a lot of fun."
The dinner, now in its 28th year, was sponsored by Dr. Tom and Gerry Fennessy, Larry and Emily Sverdrup, Faye Schoknecht, Marvel Thompson, Clarence and Verna Johnson, Rik and Diane Rewerts, Dr. David and Brenda Swanson, and Les and Margy Nelson.
Drawing donors who contributed to the event were as follows: The Elks Club, Helen's Candies, Libby Liquor, The MK Steakhouse, Mountain Meadows, The Antler's Restaurant, the Liquor store, Torgy's Restaurant, The Venture Inn motel, Blossom Boutique, Burger Express, Libby Floral, Pizza Hut, Rosita's Mexican Restaurant, Subway's, The Last Straw, Treasure Mountain Casino, Copper Creek, Diane's, Henry's Restaurant, Libby Cafe, Libby Empire Foods, MCDonald's, PJ Cafe, and Rosauers.
The outdoor entertainment was provided by Ray Eanes and the corresponding craft show was headed by Noelle Gilmore. 
---