Sprinkle pleads 'not guilty'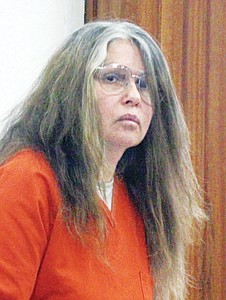 Gloria Lee Williams Sprinkle, the woman facing three felony charges as a result of a two-day standoff against police at her rural Libby home March 26 and 27 entered a not-guilty plea Monday in 19th Judicial District Court.
Dressed in prison orange with her hands cuffed securely at her waist, Sprinkle answered Judge James B. Wheelis' questions promptly when quizzed whether she understood the three felony counts against her.
"Yes, your honor," Sprinkle replied, her long blonde with gray streaked hair flowing around the sides of her face.
As a result of the 19-hour standoff at the home she shared with her husband, Charles Sprinkle, Sprinkle faces three felonies — two counts of assault with a weapon and a third of criminal endangerment.
As Wheelis read each charge against her, Sprinkle entered three pleas of "not guilty."
Her attorney, court-appointed public defender Noel Larrivee, explained Sprinkle is capable of understanding the charges against her.
"She's currently taking her medication," Larrivee said. "We're assessing our defense."
Larrivee works out of the Kalispell public defenders office.
Lincoln County Deputy Prosecutor Robert Slomski urged the court to pursue a psychiatric evaluation for Sprinkle, citing cases in both 2004 and 2009 in which Sprinkle had previous run-ins with the law.
Larrivee sought and was granted court records for those two previous instances.
"The state is asking for psychiatric evaluations at the state hospital," Slomski said.
Wheelis concurred.
"On the basis of this case and past cases, I will grant the order for a psychiatric evaluation," Wheelis said. "We'll set up a further hearing pending this examination."
Larrivee asked for a subsequent hearing — an omnibus setting — for 60 days, providing enough time to conduct the tests.
For Larrivee, representing Sprinkle he said reflects a task with which he is familiar.
"I tend to get the more difficult cases," Larrivee said. "If my client understands the charges against her, and I think she does, her decision to plead not guilty is up to her. Now, statistics say that 87 percent of cases don't go to a jury trial. We'll have to see how the psychological evaluation comes back."
Larrivee said Sprinkle's case is unique because the victim of her alleged assault is her husband, and she is not to have any contact with him. With a $500,000 bail set, Sprinkle's attorney husband is one person who might be able to bond her out.
"I'll be talking with him today at some point," Larrivee said. "Basically, this is a complex case."
The omnibus is set for 9:30 a.m. Monday, June 11.
---