Caroline Guthrie, 76, of Spokane, Wash.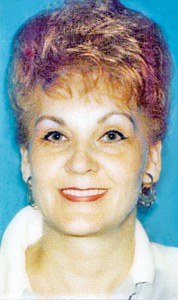 Carrie lost her courageous and heroic battle with pancreatic cancer on March 28, 2012.  
She was surrounded by her loving family as she passed away peacefully in her home at Spokane, Wash.  
The fourth of 10 children, Carrie was born at the family farm in Troy, Mont., on July 6, 1935, to Tressa (Davis) and John Kovar.  It was there that she spent her early years and developed a love for hunting and fishing, graduating from Troy High School in 1953.  
She married Robert R. Guthrie in 1952 and after starting their family moved to Spokane, Wash., in 1956.  She continued to build her family while working as a checker and night manager, retiring from Excell Foods after 41 years in the grocery business.
Throughout Carrie's life her greatest joy was spending time with her family.  
She thrived on planning and celebrating special occasions and was happiest when giving to others.  She loved country music and had a gift for singing harmony and playing the mandolin.  
She enjoyed traveling and one of her fondest memories was spending Christmas in Hawaii with her family.  She loved the sunshine and brought sunshine to all the lives she touched.
Although Carrie's life had many struggles, she was the eternal optimist and taught her family to look for the positive in all situations.  She worked hard for all that she accomplished and by her example, her family learned resilience and perseverance.  She was absolutely beautiful, both inside and out.
She was preceded in death by her parents John and Tressa Kovar, her husband Robert R. Guthrie, her sisters Susie Bennett and Christine Eatinger, her brothers Martin, George and Robin Kovar, son-in-law Earl Lewis and grandson Brandon Leach.
She is survived by her daughter Debbie and husband, Kent Leach, granddaughter Korina and husband, Franklin Day, and great-granddaughter Makena Day, all of Spokane; her son Kenneth Guthrie and wife Susan and grandson Mathias Guthrie, all of Rathdrum, Idaho; her daughter Vicki Guthrie of Spokane; her daughter Michelle and husband Joseph Tosten, grandchildren Camille Lewis, Gavin Lewis and Jolie Tosten all of Grangeville, Idajp; her longtime  companion Tom Carpenter of Spokane, and his family; her brother John Todd Kovar and wife Dani of Liberty Lake, Wash.; her sisters Stacia Fifield and husband Glen of Troy, Mont., Luella "Becky" Krebs of Newport News, Va.,  Linda Lockman and husband Gordon of Clarkfork, Idaho; many cousins, nieces, nephews and countless wonderful friends.
Services will be held 1 p.m. Saturday, April 14, 2012, at the Church of God in Troy, Mont., with burial to follow at the Troy Cemetery.  
Arrangements are by Schnackenberg & Nelson Funeral Home in Libby.
---