Standoff ends without casualty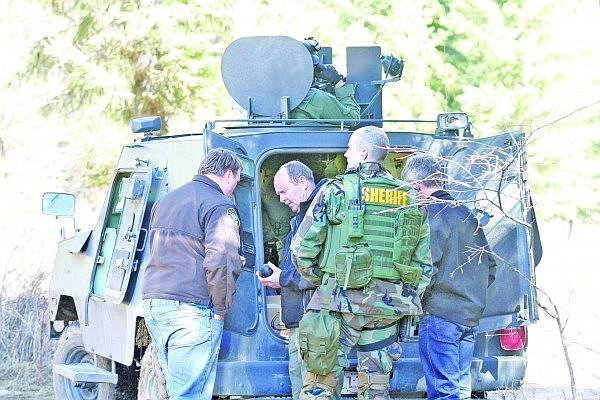 <p>Lincoln County Sheriff Roby Bowe talks with Flathead County Under-Sheriff Dave Lieb as he handles an "Eye-Ball," a remote camera projected into a home to view suspects and their location. The two discussed its possibilities during the standoff Tuesday. </p> <div><strong><br /></strong></div>
by
The Western News
|
April 7, 2012 8:10 AM
From the beginning, it didn't appear this could end any other way than poorly.
For starters, there was an armored personnel carrier complete with a helmeted gunner atop, sitting behind a high-caliber mounted rifle in a turret. Then there was the on-site Mobile Command Center and Sheriff's Department sharpshooters in flak jackets with voice-activated radio headsets.
Lincoln County Sheriff Roby Bowe, a handful of his deputies with the aid of Flathead County Sheriff's officials, managed to talk Gloria Sprinkle, 53, out of her Sheldon Flats home Tuesday afternoon, ending about a 19-hour standoff when she blinked first.
It all began Monday evening, when Sprinkle shot at her husband, Charles Sprinkle, who then notified authorities.
A defiant Gloria Sprinkle, who is now undergoing psychological evaluation, treated law-enforcement no differently than her husband, firing off a round Monday evening. Officers then decided to wait until Tuesday morning to further approach her.
In all, about 25 officers responded to the Sprinkle home involving two shift rotations of officers from both departments. The home is located about two-tenths of a mile behind the Mountainside Ministry Training center.
The waiting game continued Tuesday morning, as a crew of Libby Ambulance volunteers waited at the church, safely tucked on its parking lot almost a quarter-mile away.
The evening before, Gloria Sprinkle and her husband, a Libby attorney, exchanged words before she went ballistic, firing off a round of a high-powered rifle near her husband before he fled their secluded home.
When The Western News arrived on the scene about 11:40 a.m. Tuesday, editorial staffers were met by Lincoln County Sheriff's Detective Boyd White as they approached the Command Center.
"You can't be here," White commanded, meeting the crew before it reached the Flathead County Sheriff's Department Mobile Command Center.
"You must go back. You're actually in the hot zone," White said.
From a distance, onlookers could see as Lincoln and Flathead counties law-enforcement officials prepared to make their approach of the wood-framed home.
As police readied for their approach to the home, Bowe signaled to the media on hand.
"You can come to the trailer, no farther. When we approach, you must go back," Bowe ordered.
The two TWN staffers obliged, eager to take notes and get close-up photographs as authorities prepped for the impending approach.
After Flathead Sheriff's Department officer Dave Lieb retrieved one last vital piece came the command.
"We're ready."
Shortly before noon, fully armed officers loaded into the armored vehicle and made their way in an easterly direction toward the Sprinkle home.
Listening to the engine and counting, it seemed like the vehicle drove for about 25 seconds before it stopped.
There was silence.
Then, about 12:17 p.m., there were indiscernible voices coming through the woods, very much out of sight.
"We were using a loud-speaker system," Bowe of the three communications he had with Sprinkle. "We talked three times, once on the phone and then twice on the speakers." 
Then more silence.
Suddenly, more voices, which sounded like dialogue, perhaps with the occupant of the home.
Afterward, another long stretch of silence.
That stillness was broken at 12:39 p.m. when the first of three loud discharges of what was determined later to be discharges of tear gas.
"Those were the chemical agents," Bowe said of the gases used to flush Sprinkle from the home.
 After the first charge, a second followed 15 seconds later.
Then 17 seconds after the second there was a third and final discharge that echoed through the timber of this bright sunny spring day.
Then a protracted period of silence, we now know as the time Sprinkle emerged from the home.
In the end, police ended the standoff without injury and sans confrontation.
Law-enforcement officials, with all strategic flex of might of two policing agencies, ended this one peacefully — excluding the tear-gas canisters. The standoff concluded without a potentially fatal shot being fired.
At about 3 p.m. Tuesday, nearly 19 hours after it began, Sprinkle surrendered to Bowe and law-enforcement officials.
It was a safe, happy ending to a potentially violent situation — on a bright Montana spring afternoon.
---