Sheriff seeks man wanted in beating of woman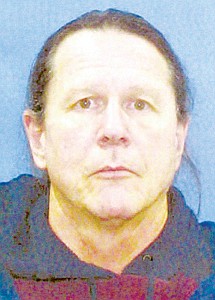 <p>John Navarro Stone</p>
The Lincoln County Sheriff's Office is seeking the public's assistance as it is pursuing John Navarro Stone, 57, wanted on felony charges.
Stone, of Lincoln County, is wanted in connection with an attempted deliberate homicide and several other felony charges.
Of the Fortine area, Stone is 5-feet, 11-inches tall, with an approximate weight of 165 pounds. He has brown eyes and brown hair. 
He is possibly driving a 2007 Jeep sport utility vehicle, which is red with Montana license plate 56-33492.
His charges are in connection to a severe beating of a female companion. The beating took place March 10.
The Sheriff's Department was called to the residence in the Fortine area March 21.
Any persons having information on Stone's whereabouts are asked to call 911, your local law enforcement agency, or the Lincoln County Sheriff's Office at 406 293-4112.
---