Lady Trojans' Williams named 'All-Conference'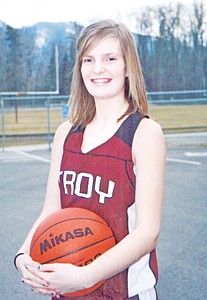 Junior guard Jordan Williams of the Lady Trojans was selected to the "First Team" in basketball by the 7B Conference coaches. 
Williams was the third-highest scorer in the league, trailing by only one point for the league scoring title. 
"For a team that struggled offensively this year, Jordan's selection was extremely rewarding and a huge testament to her efforts," said Coach Tony Smith. "Not only was Jordan our leading scorer, but she was an outstanding rebounder and defender, and I think the league coaches recognized that," said Smith.
Smith also credited the unselfish play of her teammates for setting good screens and getting her the ball in a timely manner. 
"Not only is Jordan's selection a credit to her own ability and hard work, but to all of the Lady Trojans who unselfishly recognized the importance of getting the ball into her hands," said Smith. "She is an outstanding reflection of her team and Troy High School. I am very proud of her, and was delighted to have coached her," he said.
---