Jerry W. Murphy 71, formerly of Libby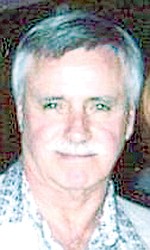 by
The Western News
|
September 29, 2011 11:30 AM
Jerry W. Murphy, 71, passed away on
Monday, Sept. 12, 2011, in Bonners Ferry, Idaho.
Jerry has requested no services but
asks to be remembered by all who loved and respected him
Jerry was born to Fay and Dorothy
Murphy on July 17, 1940, in Washington, Iowa.
Jerry's family eventually moved to
Wenatchee, Wash., where he graduated high school and later attended
and graduated from Washington State College.
Jerry went on to teach for 35 years in
southern California. He later received his master's degree.
On March 15, 1997, Jerry married the
love of his life Jeri Watters.
He then retired as a school teacher and
the two of them settled in Libby where they both worked at doing
Community Theater, hiking and enjoying life with their beloved dogs
and cats.
Six years ago they relocated to Bonners
Ferry, Idaho, where they have a small pygmy goat farm.
His survivors include his loving wife
Jeri Murphy of Bonners Ferry; two step children Stacie Arguello
(and her partner Amy) of Concord, Calif., and Damon Watters of
Ventura Calif.; he is also survived by his adored grandson
Chance.
He was preceded in Death by his
parents.
Lakeview Funeral Home in Sandpoint,
Idaho, is handling the arrangements.
Persons are asked to visit Jerry's
online memorial at www.lakeviewfuneral.com and sign his guest
book.
---