Jim Lyle 73, of Troy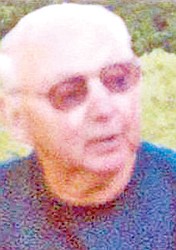 by
The Western News
|
October 31, 2011 10:09 AM
Jim Lyle, 73, died Oct. 24, 2011, at
his home in Troy surrounded by family and friends.
He was born April 17, 1938, at Oklahoma
City, Okla., to Jim and Elizabeth (Norman) Lyle. Jim grew up in the
Troy area and worked various jobs as a mechanic including
supervisor at the ASARCO mine.
Jim loved fishing, old westerns,
playing his guitar and singing with his friends and family, which
regularly included his best buddy Bob Cody and son Mike Norman.
He is survived by his wife Mary Jo;
sons Jim O'Neill and wife Audrey; Mike Norman and wife Pam;
daughters Terri Johnson and husband Rod; Brenda Orr and fiance Bob
Cochell; and Shana Lyle; brother Lee and wife Shiela; sisters Mona
Jellesed and husband Terry; Lyndeen Osborne and husband Ron; Debbie
Randolph and husband Sammy; stepchildren Joe, Sheena and Lee Ann;
numerous grandchildren, great- and great-great grandchildren and,
last but not least, his faithful dog Brandy.
Jim was preceded in death by his
daughter Becky; wife Shirley and brothers Gene, Daryl Ray and
John.
Services will be 2 p.m. Wednesday, Nov.
2, at the Troy Church of God.
Interment will be later in Miama,
Okla.
Arrangements are under the care of
Schnackenberg & Nelson Funeral Home.
---