City workers, volunteers replace aging Trojan totem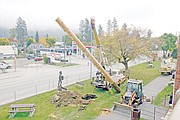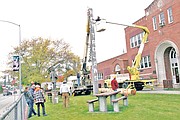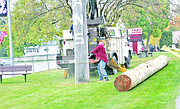 Troy city employees welcomed a break in
the weather Thursday to remove the rotting totem adorning the front
lawn at the high school. However, they did not anticipate a break
in the crane strap while lifting the newly carved totem donated by
Chapel Cedar Lumber Co.
"We really wanted to have it all done
by the time the kids went back to school Monday," Public Works
Director, Dave Norman said.
Students, administrators and teachers
were dismissed from class Thursday and Friday for conferences,
giving workers plenty of time to begin the project. Beside Norman,
workers included Bob Boren and Tim Shaver of City Power and Lights
department, and Dennis Dupuis of the City Public Works
department.
Starting things out with a bang, Norman
fired up the chainsaw to cut the base of the totem, while the crane
and strap held the piece upright. Backhoe machinery was brought in
to dig around the existing totem and later break it up to remove it
in pieces.
The totem replacement is larger than
the original. Securing the new totem with the crane strap, laborers
worked tirelessly for more than an hour to pull the totem upright.
The totem rotated out, swung from side to side before it broke a
picnic table and nearly hit the carved Trojan.
The strap finally broke.
"I guess we are done for today," Norman
said.
The original Trojan will be replaced by
a replicated piece carved by local carver Bill Denton. The original
will be placed on school grounds.
---