Larry Schlund 63, of Libby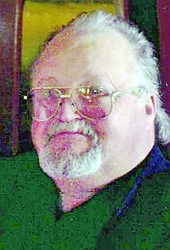 by
The Western News
|
October 11, 2011 5:05 PM
Larry Schlund, 63, of Libby died
Wednesday Oct. 5, 2011, at Health Care Northwest in Kalispell,
Mont., from natural causes.
He was born April 18, 1948, in Grand
Rapids, Mich., to Albert and Treva Halstead Schlund.
He grew up and attended school in
Snohomish, Wash., and graduated from Snohomish High School with the
class of 1968.
He married Christy Martin in 1968 in
Snohomish. Larry had worked as a Police officer, and prison
guard.
He went to work for Boeing in 1986 and
worked for them until his retirement in 2004. Larry then moved to
Libby.
He enjoyed fishing, hunting, camping,
riding motorcycles, flying remote-control planes, playing
horseshoes and chess and hanging out with his family.
His wife Christy and a daughter-in-law
Ivy preceded him in death.
Survivors include his children Tina
Bacon and husband Kurt of Tukwila, Wash.; Gary Schlund of Libby;
three brothers Albert Schlund of Ark.; Ronald Schlund of
Washington; Jeffrey Schlund and wife Theresa of Washington; two
grandchildren Alex and Andy.
Graveside services will be 11 a.m.
Tuesday Oct. 11, 2011, at the City of Libby Cemetery.
Visitation will be from 1 to 8 p.m.
Monday at Schnackenberg & Nelson Funeral Home in Libby.
---