Joanne L. Spady 57, of Libby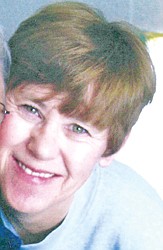 by
The Western News
|
October 7, 2011 4:06 PM
Joanne Lynn Spady, 57, passed away at
her home in Libby, Mont., on Oct. 2, 2011.
She was born Nov. 16, 1953, in Libby to
Robert "Bud" and Evelyn (Knutson) McNulty. Joanne grew up and
attended school in Libby.
On Dec. 18, 1971, she married Stuart
Spady in Bonners Ferry, Idaho. They returned to Libby, making their
home there.
Joanne loved flowers and taking care of
their yard. She was also very 'crafty'—enjoying crocheting, making
candles, going through old pictures and making scrapbooks.
Some of her most enjoyable moments were
with her grandchildren. Joanne loved being a grandmother.
She was preceded in death by her
parents Robert and Evelyn McNulty; brothers Robert McNulty and
Richard McNulty; step-dad Earl Schulke; and father-in-law Raymond
Spady.
Survivors include her husband Stu Spady
of Libby; children Rob Spady, Stuart Spady Jr., and Sommer Schulte
(Timber); mother-in-law Doloris Spady, all of Libby; siblings Larry
(Cheryl) McNulty of Mount Vernon, Wash.; Linda (Steve) Risley and
Lois (Duane) Skranak both of Libby; and Nancy Rice of Belgrade,
Mont; eight grandchildren Zoie, Xander, Aaliyah, Jayce, Kylie,
Tanner, Taryn, and Shelby; step brothers and sisters Nancy Schulke,
Jerry Schulke and Sue and Jerry Ellenfelt.
Services will be 2 p.m. Friday, Oct. 7,
2011, at the Christian Church, 100 Kootenai River Road, in
Libby.
Family and friends called at the
Schnackenberg & Nelson Funeral Home, 422 W 2nd St, in Libby
from 1-8 p.m. Thursday, Oct. 6.
---