William D. McGlumphy 96, formerly of Libby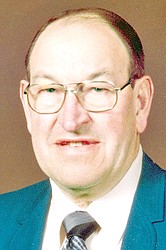 by
The Western News
|
October 6, 2011 12:24 PM
William D. McGlumphy, 96, of Helena
passed away peacefully at Aspen Gardens on Sept. 23, 2011, with his
wife of 67 years by his side.
He was born to Richard and Margaret
(Corrie) McGlumphy on Jan.18, 1915, in Sumatra, Mont.
William grew up in Sumatra and
graduated from Sumatra High School. He attended MSU Bozeman. He
served in the Montana Army National Guard in 1933.
He married Renate Poeschel on June 17,
1944, in Berkley, Calif.
During World War II, William built
submarines at Mare Island, Calif. He then became a bulk fuel oil
distributer in Libby. He retired to Helena, Mont., and Dragoon,
Ariz.
Among William's favorite hobbies were
fishing, boating, RV'ing with his wife, walking his dog, Barney,
and watching his favorite team, the St. Louis Cardinals. He was
also a long-time member of Al-anon.
William is survived by his wife, Renate
McGlumphy; daughters, Martha (Joe) Arnold and Kate McGlumphy;
grandchildren, Daniel and Alex Tagliatela; and nephews, Bill
McCracken and Steve Vogt.
He was preceded in death by his
parents; sisters, Virginia (George) McCracken and Josephine
(George) Vogt; nieces, Margo Vogt and Joy McCracken; and
parents-in-law, Ewald and Elsa Poeschel; and brother-in-law, George
Poeschel.
A burial service was held at 2 p.m.
Friday, Sept. 30, 2011, at Forestvale Cemetery.
The family celebrated William's life on
Saturday, Oct. 1 at Aspen Gardens, House No. 16.
Memorials in William's name are
suggested to the Lewis & Clark Humane Society, P.O. Box 4455,
Helena, Mont., 59604.
Condolences may be sent to the family
by visiting: www.aswfuneralhome.com.
---