Jesse L. Wickey 32, of Libby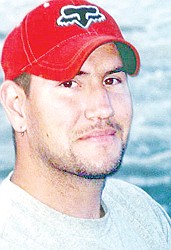 by
The Western News
|
November 10, 2011 10:33 AM
Jesse L. Wickey, 32, of Libby died Friday Nov. 4, 2011, at St. John's Lutheran Hospital. 
He was born Jan. 28, 1979, in Ronan, Mont., to Phillip and Sherry Butler Wickey.  He grew up in Ronan and Missoula where he attended school.  He graduated from Hellgate High School with the class of 1997. 
Jesse worked odd jobs wherever he went.  Jesse enjoyed working on vehicles, motorcycles, four-wheelers, and installing car stereos. He liked camping and fishing and being with his dog, he loved animals. 
Jesse's hobbies included putting together models and cruisin' around town. He loved hot cars and especially Hot August Nights.
He was a very caring person who would do anything to help out.  He had a heart of gold, always laughing and happy to make you laugh, too. 
Jesse loved his family, and especially enjoyed playing with his nieces. He would give the shirt off his back for anyone. He will be so very missed by his family and friends.
Survivors include his mother Sherry Smith of Libby; a sister Kelley Smith and husband Melvin of Missoula, Mont.; sister Bobby Slenes of Libby; grandmother Betty Archer of Pine Hurst, Idaho; and nieces Abrianah, Rhiannon, and Bryauna and good friend Dustin Steiger.
Private family services will be held. 
Local arrangements are by Schnackenberg & Nelson Funeral Home in Libby.
---