Libby, Troy spikers defeated
by
Sandra Faye Douthit
|
November 4, 2011 3:35 PM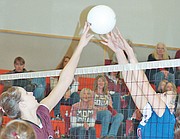 With just two weeks left for volleyball
season, Libby Lady Loggers continue to strive for a place in
postseason play.
As the Ladies traveled to Whitefish on
Friday, they found it difficult to execute the original game
plan.
"Serving is our biggest strength,"
Loggers coach, Cindy Ostrem-Johnston said. "We only served 81.7
percent."
Against Polson the Ladies lost in four
sets, 21-25, 25-23, 23-25, and 19-25.
"I was really proud. The girls played
their hearts out," Johnston said.
The Loggers begin divisionals Nov. 3 to
5. Time and place is yet-to-be determined.
The Troy Lady Trojans were confident in
their win in three sets against Plains.
On Oct. 29, the Lady Trojans faced
disappointment, losing to Bigfork and Eureka in four sets.
"We still have a chance to make it to
state," Trojans coach, Sandra Beal said.
---