SJLH gets Stroke Recognition Award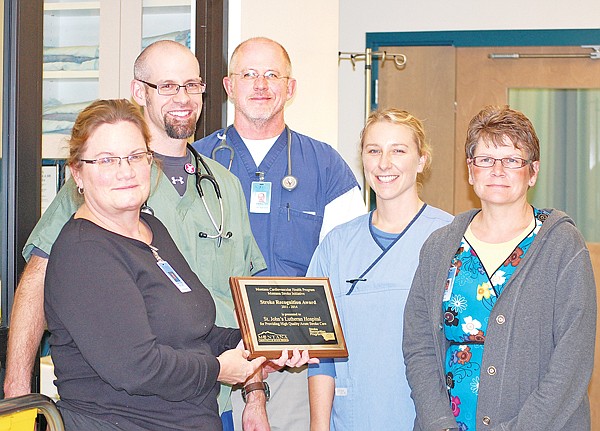 <p>St. John's Lutheran Hospital recently received recognition for serving stroke patients.  Holding the award include, from left, Cathy Wolfe, Vice President of Nursing,Tony Fantozzi, PAC; Dr. Jay Maloney, Amy Hayes, RN; Teri Beebe, RN.</p>
by
The Western News
|
November 3, 2011 2:29 PM
Stroke is the leading cause of adult disability and is the fourth leading cause of death in the United States. 
Last year, over 2,000 Montana families were directly affected by the devastating effects of stroke.  Symptom recognition and timely, high quality treatment are important factors in reducing death and disability from stroke. 
The Cardiovascular Health Program at the State Health Department, in collaboration with the Montana Stroke Workgroup, has been working since 2004 to increase awareness of stroke signs and symptoms and to improve the acute treatment of stroke across Montana. 
In 2011, the Cardiovascular Health Program and Montana Stroke Workgroup introduced a Stroke Recognition Award.  The Recognition Award sought to single out Critical Access Hospitals that demonstrated they have the infrastructure and commitment to provide high quality care for patients with acute stroke.  
Each hospital that applied for the recognition had to demonstrate that they had evidence-based stroke order-sets and protocols, laboratory and radiology services available 24/7, and administrative commitment to treating acute stroke patients. 
St. John's is one of only five Montana Critical Access Hospitals that received the Stroke Recognition Award. The Award was announced at the Montana Hospital Association's annual conference in Billings on Sept. 22.
Know the signs and symptoms of stroke:
• Sudden numbness or weakness of the face, arm, or leg;
• Sudden trouble seeing;
• Sudden confusion, trouble speaking, or understanding;
• Sudden loss of balance or coordination;
• Sudden severe headache with no known cause;
Know what to do if you or someone you know experiences stroke symptoms:
• Call 9-1-1 immediately.
For more information about stroke, please visit: www.strokeassociation.org
---