1-Year-Old: Aspen B. Orr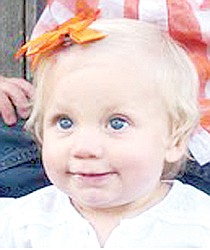 by
The Western News
|
November 3, 2011 2:14 PM
Aspen Belle Orr, daughter of BJ and Lucy Orr of Troy, celebrated her first birthday on Sept. 11.
Aspen's maternal grandparents are Don and Dee Davis of Troy.
Paternal grandparents are Michael Orr of Troy and Laurie and Bruce Thom of Libby. Paternal great-grandparents are Bill and Judy Orr of Troy.
Aspen has one sibling, brother Carson Davis Orr, 3.
---