T. Falls upends Trojans in 7-B battle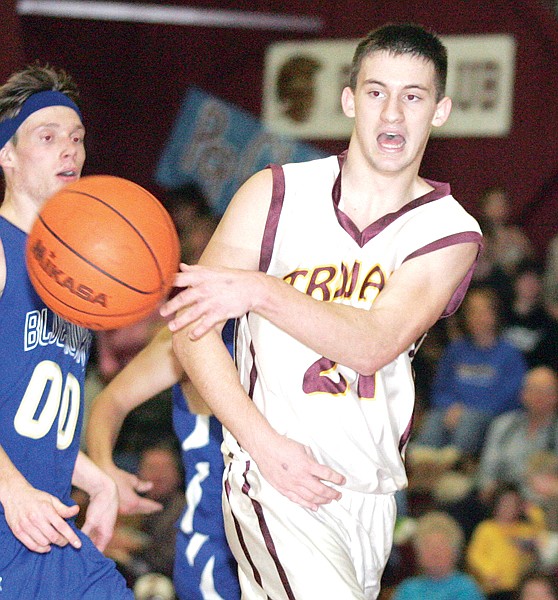 Troy's Mikey Ormiston passes the ball with Thompson Falls' Challis Wilson in pursuit on Friday night.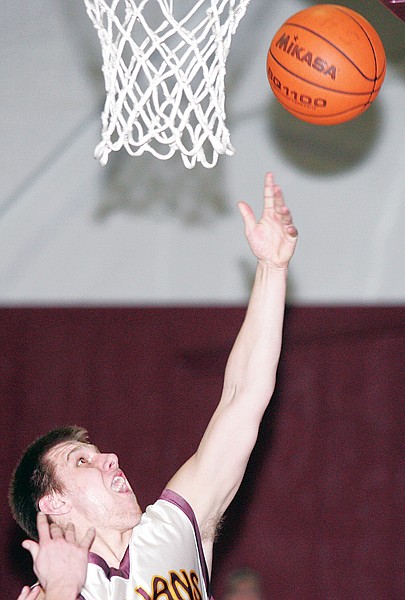 Kody Hoffman rebounds and scores on a missed Trojan free throw during the fourth quarter on Friday vs. Thompson Falls.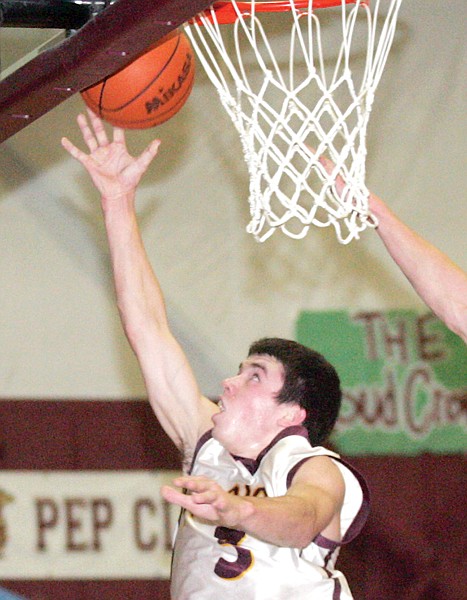 The Trojans' Cory Orr attempts a layup against Thompson Falls on Friday.
Previous
Next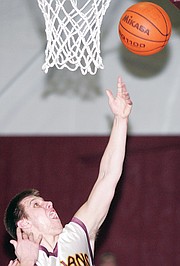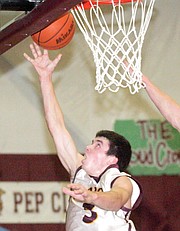 Standing 6-foot-6, Thompson Falls senior
center Challis Wilson obviously carries a major presence on the
Class B school's roster.
In Friday night's 49-45 victory over Troy in a
District 7-B meeting, Wilson represented a significant headache for
the Trojans through points, rebounds and blocked shots. In the
game's final 3 minutes, Wilson scored two key baskets and protected
his team's lead with 90 seconds left by blocking Troy's big man,
Ryan Rayson.
"They played well and they made shots," Troy
High School coach Cory Andersen said. "There were times when our
defense broke down. We just didn't play the normal way we've played
in the past at times and made a lot of mental mistakes."
The Trojans rolled to a 15-6 lead through the
game's opening 5 minutes. Trent Cratty, returning from an injury he
suffered the previous week against Libby, was a thorn in the
Bluehawks' side with seven of those points during the early
run.
Kody Hoffman recorded assists on the game's
first two baskets – a Rayson jumper in the lane and a Cratty hoop.
Cody Orr stole the ball on a backcourt in-bounds pass and quickly
scored for an 8-2 lead as the Trojan press created problems.
Cratty hit a three, Cody Orr added another
basket and Cory Orr hit a pair of free throws for a 15-6 advantage.
Thompson Falls cut that lead down to four points by the end of the
first quarter.
"It just didn't seem like we had the energy
tonight," Andersen said. "I don't know what it was, what the whole
situation was but yeah, energy, missed shots, opportunities we had
… we jumped out and played pretty well. Maybe the guys got a little
comfortable thinking it was going to be easier than it was, I don't
know."
Neither offense did much in the second quarter
although Wilson had a dunk to please the contingent of Bluehawk
fans in the stands. By halftime, the Trojans were clinging to a
23-21 lead.
Thompson Falls took its first lead of the game
on a free throw with 6:23 remaining in the third. The Bluehawks
continued to click and led by six points heading into the
fourth.
The Trojans opened the final period with a 6-0
run to knot the score at 38-38. Cratty got a steal, hoop and also
drew a foul. After sinking the free throw, he followed 10 seconds
later with a three-pointer.
Thompson Falls finally scored in the fourth at
the 5:53 mark but Troy responded with a three by Mikey Ormiston to
take a 41-40 lead with 4:22 left. Cratty then hit a pair of foul
shots for a 43-40 advantage with 3:08 on the clock.
The Bluehawks rallied, however, with a pair of
Wilson baskets – the latter after a Josh Hojem steal – and an A.J.
Pavlik hoop for a 46-43 lead. Thompson Falls hit a free throw with
36 seconds left for a 47-43 lead.
The Trojans countered to give themselves a
chance at the end. Cody Orr picked up an offensive rebound and
basket with 20 seconds left to cut the deficit to 47-45. But
Thompson Falls clinched the victory with a pair of free throws by
Garrett Reinschmidt. Troy was not able to score the rest of the
way.
"A loss like this is maybe good in the long
run," Andersen said. "Sometimes we think we're better than we are.
It might be a loss that can come back to help us in the
future."
Cratty was on fire with 23 points on nine
field goals and 3-of-3 free throws. For the Bluehawks, Wilson
finished with 20 and Jaron Laws added 15.
Troy dropped to 4-2 in the district while the
Bluehawks improved to 2-4.
"It's fine … I think we just need to keep
plugging away and try to get to that first or second spot if we can
in districts and we can still do that," Andersen said.
To make it to state, Troy will need to advance
through the 7-B district tournament and then finish as one of the
top two teams at divisionals.
The Trojans followed up the agonizing loss
with a 43-38 victory on Saturday over Superior.
This time, Troy got off to a slow start with
just four points in the first quarter. The Bobcats led, 21-16, at
halftime.
But the Trojans came up big in the third
quarter with a 15-5 run to take a five-point lead into the fourth.
Troy then held off all Superior charges to nab the victory.
Cory Orr scored 11 and Ormiston added 10 to
lead Troy in the scoring department.
The Trojans (7-4 overall) heads to Noxon on
Friday and Plains on Saturday.
T. Falls 49, Troy 45
Friday at Troy Activity Center
Scoring by Quarters:
T. Falls                 
12                  9                 
17                  11—49
Troy                     
16                  7                   
9                  13—45
THOMPSON FALLS (49)
Reinschmidt 2 3-5 8, Pavlik 2 1-2 5, Wilson 10
0-0 20, Laws 6 1-1 15, Hojem 0 1-4 1. Totals 20 6-12 49.
TROY (45)
Cory Orr 0 2-3 2, Rayson 2 1-2 5, Cody Orr 3
1-3 7, Hoffman 1 0-0 2, Cratty 9 3-3 23, Ormiston 2 0-0 6. Totals
17 7-11 45.
Troy 43, Superior 38
Saturday at Superior
Scoring by Quarters:
Troy                        
4                  12                 
15                  12—43
Superior                 
6                  15                   
5                  12—38
TROY (43)
Cory Orr 11, Rayson 5, Cody Orr 6, Ormiston
10, Hoffman 6, Cratty 4, Garcia 1.
SUPERIOR (38)
Frederick 6, Coon 4, Lowman 9, Smith 8, Kay 5,
Boll 3, Benda 3.
---