Birth: Tucker Richard Allen James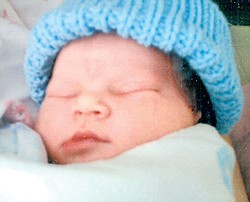 |
January 25, 2011 10:59 AM
Corey James and Tonia Schnitzler announced the
Dec. 20, 2010 birth of their son, Tucker Richard Allen James.
The baby was born at 9:52 p.m., at St. John's
Lutheran Hospital in Libby. He weighed 8 pounds, 8.1 ounces and
measured 21 inches in length.
Paternal grandparent is Jesse James of Libby.
Maternal grandparents are Rick and Kaylene Schnitzler of Libby.
Paternal great-grandparents are Beverly James
of Libby and the late David James. Maternal great-grandparents are
John and Sally Clawson of Thompson Falls, Leonard and Jeni Kjos of
Yuma, Ariz., and Betty Schnitzler of Thompson Falls and the late
Roger Schnitzler.
---