Vaughn 'Bill' William Vincent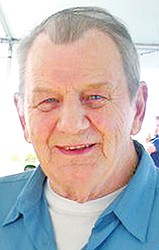 |
January 18, 2011 11:37 AM
Vaughn "Bill" William Vincent was born
May 22, 1934 to Bill and Hazel Vincent of Thompson Falls. He passed
away Jan. 15, 2011 in Libby surrounded by family and friends.
Bill was raised in a timber family in
Thompson Falls and Belknap. During his junior year of high school
his family moved to Yreka, Calif., where he started a long career
of heavy equipment operation. He married Julia Kendall of Oakland,
Ore., in 1953 while working on the Highway 99 project.
They moved back to Montana in 1958.
After years of working for Bache Brothers in Libby, and a short
stint as a ranch foreman of Bloss Ranch in Planada, Calif., Bill
and Julie started Vincent Logging and operated that road building,
development and logging company for more than 30 years.
Bill was passionate about both his work
and play and he loved to compete in both. His mastery of the art of
heavy-equipment operation is legendary. He also excelled at western
Montana O-Mok-Sees and served as an early president of the Libby
Saddle Club. He bred and raced thoroughbred and quarter horses, was
a licensed pilot, loved to hunt, fish, ride his ATVs, play
competitive pool and shoot trap.
He passed away after suffering a fatal
heart attack while shooting trap at the Libby Shooting Gun Range –
with his boots on, gunpowder on his hands and enjoying family and
friends.
Bill was preceded in death by his
parents; wife of 42 years, Julie; second wife, Loretta; and one
sister, Echo (Vincent) Johnson.
Bill is survived by his four boys, Will
and Susie; Bruce and Patti Jo; and Scott and Hassey – all of Libby;
and Steve and Sheryle of Trout Creek; 14 grandchildren; 13
great-grandchildren; sister, Patti Coe of Plains; sister, Robin
Kendall and partner Fred of Libby; a ton of other family members
and his beloved partner, Claudia Stephens.
As Bill stood at a family wedding this
summer, surrounded by nearly 100 family (many of them under 3 feet
tall) and a couple hundred friends, he said he was awed at "what
two silly kids from the 1950s had built by falling in love." Here,
here, to a good life well lived.
Services will be Friday, Jan. 21 at 2
p.m., at the Libby Christian Church with the Rev. Phil Alspaw
presiding. A reception will follow with details to be announced at
the service.
The family asks that donations be made
to Libby Volunteer Ambulance and the St. John's Lutheran Hospital
Foundation.
— — —
(Information submitted by family).
---