Logger boys rally to defeat Troy, 34-26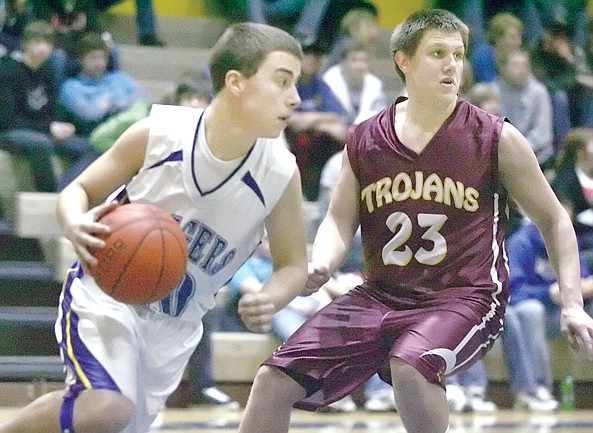 Libby's Jared Winslow drives the ball while Troy's Kody Hoffman looks toward his team's defense during Thursday's game.
Trailing 22-21 heading into the fourth
quarter, the Libby High School boys basketball team was looking for
a nice run over the final eight minutes to put away visiting
Troy.
The Loggers had reached a level of
frustration over the first three quarters with practically no
outside shooting. Still, Libby's defense kept coming up big to keep
the Trojans from pulling away.
Then it happened. Over a two-minute
stretch of the fourth, Garrett Craig buried a three-pointer and
both Alex Cislo and James Hare scored inside to provide a bit of a
cushion. Troy could not keep pace the rest of the way and the
Loggers took a 34-26 victory.
Second-chance opportunities on the
offensive end helped the Loggers late.
"We got a little more aggressive. James
Hare and Alex Cislo got some offensive boards – that was big," LHS
coach Wally Winslow said. "We talked about that, we actually have
not been rebounding the ball very well throughout the course of the
year. … We needed to get some offensive boards and the boys
responded."
Troy was coming off a tough overtime
loss to Bigfork in which the Trojans had let a game slip through
their fingers in the fourth quarter. Coach Cory Andersen said the
same thing unfolded against Libby.
"We struggled in the fourth quarter
again. We've just had some games where we couldn't hit shots when
we need to make them," Andersen said. "I thought there was a point
in the third quarter where if we would've been able to hit some
shots, we could've extended the lead, maybe go up by five to eight
points and that would've made a difference going down the
stretch."
Shooting woes plagued both schools in
the first quarter. Troy held a 6-4 lead behind four points from
Trent Cratty and two from Ryan Rayson. Libby had just two points
through most of the quarter on a hoop by Hare. Finally, Reese
Jensen found the net with 3 seconds on the clock to cut the deficit
to two points.
Early in the second, Hare scored
back-to-back buckets to give the Loggers their first lead. But Troy
responded with a 5-0 run – all of those points by junior Cory
Orr.
"It was a defensive battle there for
quite a while … nobody could make a shot," Winslow said. "We were
2-for-21 from the three-point line, they were 1-for-18. I mean both
played zone and gave a lot of three-point looks but nobody could
hit water from a boat."
Libby's Kelly May hit a three-pointer
to tie the game, 11-11. By halftime, the two teams were tied, 15-15
with points by Libby's Cislo and Micah Germany, and Troy's Rayson
and Kody Hoffman.
Neither team really shot very well.
Some of that's the defense, hard work on the defensive end,"
Andersen said. "Some of it was just neither team could hit shots
when they needed them."
In the third quarter, Troy took a 20-15
lead at one point with a hoop by Hoffman and a three-pointer by
Orr. But the Trojans would score only six points the rest of the
game.
Troy still held a 22-21 lead going into
the fourth quarter.
Libby took the lead with 6:30 remaining
on Craig's three. Ninety seconds later, Cislo hit and a short time
later, Hare scored for a 28-22 Logger lead.
Troy could not respond down the stretch
with its only field goal of the fourth quarter coming with 58
seconds left on a shot by Rayson. Cree Maloney's free throws and
baskets by Hare and Cislo helped provide a late cushion.
Hare and Cislo combined for 20 points
to help offset an off day from the long-range shooters.
"They can carry us. Garrett and Kelly
and those guys, they've been shooting the ball from the perimeter
really well at times throughout the year and today was just an off
day," Winslow said. "I keep telling them, shooters have to have a
short memory … shooters have to shoot is what I'm saying; the next
open look, it's going to go in. They'll be fine, they were
cold."
Troy's problems with possession also
played a role.
"We just turned the ball over too
much," Andersen said. "And when we got turnovers, we'd turn it over
right back to them so it really didn't help us any.
"I thought with our rebounding we were
pretty solid, defensively we were pretty solid," Andersen added.
"Offensively, we just didn't take advantage of the opportunities we
had and then in the fourth quarter, we gave up a few shots and they
got a few rebounds."
Hare finished with a game-high 12
points. Orr led the way for Troy with 10 points.
Libby 34, Troy 26
Thursday at Ralph TateGymnasium,
Libby
Scoring by Quarters:
Troy   6 9 7 4—26
Libby 4 11 6 13—34
TROY (26)
Cory Orr 4 1-2 10, Rayson 2 2-2 6,
Ormiston 0 0-0 0, Hoffman 2 2-7 6, Cratty 1 2-2 4. Totals 9 7-13
26.
LIBBY (34)
Maloney 0 2-2 2, May 1 0-0 3, Craig 1
0-0 3, Cislo 4 0-0 8, Hare 6 0-6 12, Jensen 2 0-2 4, Germany 1 0-0
2. Totals 15 2-10 34.
---