Constitution Caucus aims to push Republicans to right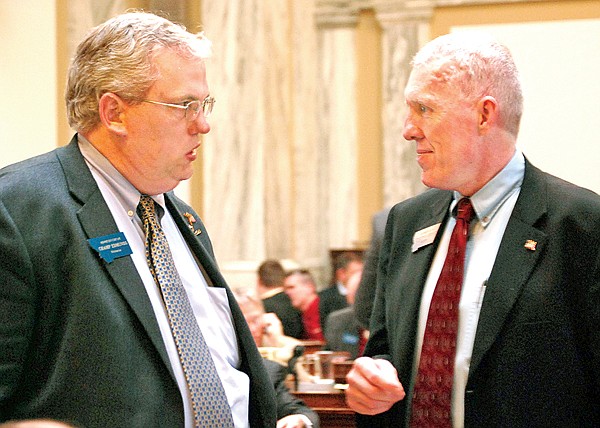 Caucus members Champ Edmunds, R-Missoula, left, and Krayton Kerns, R-Laurel, confer before Friday's floor session in the House.
by
Cody Bloomsburg & Community News Service
|
January 18, 2011 11:35 AM
They call it the Constitution Caucus,
and its message rang clear as veteran Rep. Krayton Kerns rose in
the state House Friday to oppose a bill to provide counseling for
children from violent homes.
"Don't vote your heart on this one,
vote your oath," Kerns urged his fellow legislators. "The
constitutional vote on this is no because it will grow
government."
Rep. James Knox, a freshman Republican
from Billings, couldn't have agreed more. Killing the bill wasn't
the easy thing to do, he said, but it is why he and others were
sent to Helena. Helping the needy is a job for communities,
individuals and churches – not the government, he added.
Both men are members of what they call
the Constitution Caucus, a loose affiliation of conservative
legislators, some with ties to Tea Party groups. Their unifying
belief is that more government means less freedom.
The "freedom bills" they espouse so far
cover causes ranging from beating back federal health-care reform
to expanding gun rights.
Just how much clout the caucus will
have this session is unclear. By a vote of 56-44, it lost Friday's
vote on the child domestic violence bill, which was sponsored by a
fellow Republican. Convincing more centrist Republicans to follow
along may be the group's biggest challenge.
"It is so easy to get soft up here,"
Kerns said in an interview early last week. "It is so easy when
you're wasting somebody else's money. You can vote for this little
program for these little kids, for those little kids, and it's
tough to hold on to constitutional principles."
Kerns, a 53-year-old Laurel
veterinarian serving in his third session, ran unsuccessfully for
House speaker in November. He has his own website and is the author
of "Ramblings of a Conservative Cow Doctor," a collection of
columns published in the Western Ag Reporter and the Laurel
Outlook.
For now, he said, the caucus is
informal. It has no official members list but Kerns estimated that
as many as 45 legislators agree with its causes. In the Senate,
caucus members include Sen. Verdell Jackson, a Kalispell Republican
whose bills include efforts to nullify the federal health-care act
and to allow legislators to carry concealed weapons in the
capitol.
Another supporter, Sen. Greg Hinkle,
R-Thompson Falls, has a bill saying that federal authorities can
only carry out arrests, searches and seizures with the permission
of local sheriffs. The "Sheriff's First" bill is one of the most
important pieces of legislation the group is working on this
session, Kerns said.
"We're not going to back off," Kerns
said. "We (Republicans) have a 68-vote majority in the House for a
reason and we're going to advance the constitutional principles
that elected us."
Kerns' own bills include efforts to
legalize the carrying of a concealed weapon without permits and to
use silencers in the field. Another would to nullify the federal
Endangered Species Act so Montana would have full say in managing
its wildlife.
He is no stranger to such issues. Two
years ago Kerns backed an unsuccessful resolution declaring that
Montana has the right under the U.S. Constitution's Tenth Amendment
to ignore any federal law it deemed unconstitutional.
Both Kerns and Knox said they see the
caucus' principles matching up with those of Tea Party movement,
and both said they work closely with their hometown
organizations.
Jackson refers to the Tea Party groups
as "freedom groups" because of their focus on Tenth Amendment
rights and state sovereignty. He said he wanted to call the caucus
the Freedom Caucus or the Freedom Group for that reason.
Kerns said some caucus members worried
that linking the group too closely with the Tea Party would lead
the news media to portray the caucus as a split from the Republican
Party.
"And I'm telling you it's not going to
happen," he said.
Rep. Cary Smith, a Republican whip from
Billings, said he supports the caucus but worries about tying it
too closely to the Tea Party. He doesn't want to discourage
Democrats from joining the group, whose focus, he added, is on
states' rights, not party lines.
For their part, Democratic leaders in
both houses said they aren't ruling out collaborations with
Republicans on efforts to boost Montana's economy or create jobs,
but don't foresee an alliance on state sovereignty issues.
As for the Republican leadership, House
Majority Leader Tom McGillvray, R-Billings, said he hasn't attended
Constitution Caucus meetings but then he doesn't have time to
attend many meetings. He described the Constitution Caucus no
different than any group of legislators with a special
interest.
Kerns agreed with McGillvray to some
extent.
"We all have the common goal about
freedom and advancing constitutional principles," he said. "There
are those of us who feel stronger about it than others, and we're
just going to work to drag them along."
Craig Wilson, a professor of political
science at MSU-Billings, said such divisions are common when
parties that have large legislative majorities. He also predicted
that more moderate Republicans would occasionally vote with
moderate Democrats, especially when it comes to nullifying federal
laws.
"If they take off on some grand scheme,
I don't think it's going to work," Wilson said. "Even if they get
it through the House and the Senate, you still have the governor
there with that big club in terms of a veto."
— — —
(Cody Bloomsburg is a University of
Montana journalism student covering the Legislature. He can be
reached at 208-816-0809 or by e-mail at
crbloomsburg@hotmail.com).
---