Libby wrestlers whip Whitefish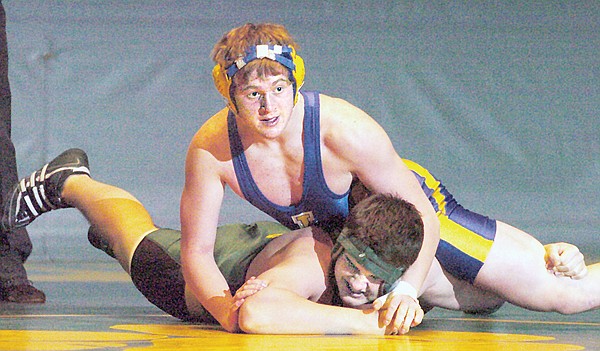 Libby's Gunnar Moe took an 11-5 decision over Whitefish's Jacob Forrest at 215 pounds.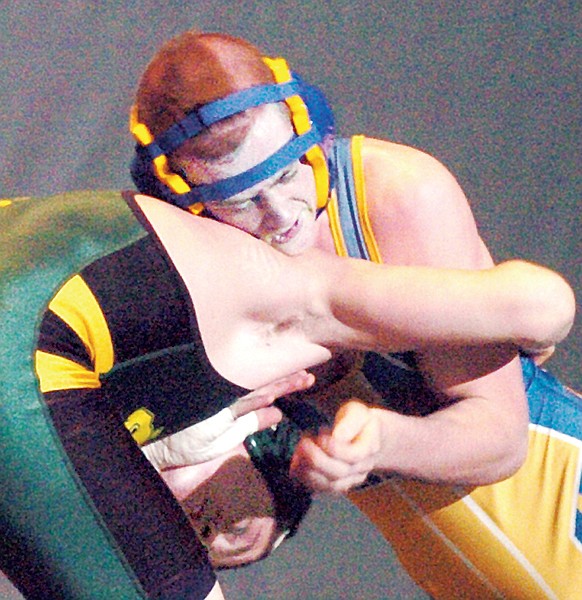 Libby's Devin Williams matches up against Whitefish's Jason Newbury at 135 pounds. Williams won in a pin in just one minute.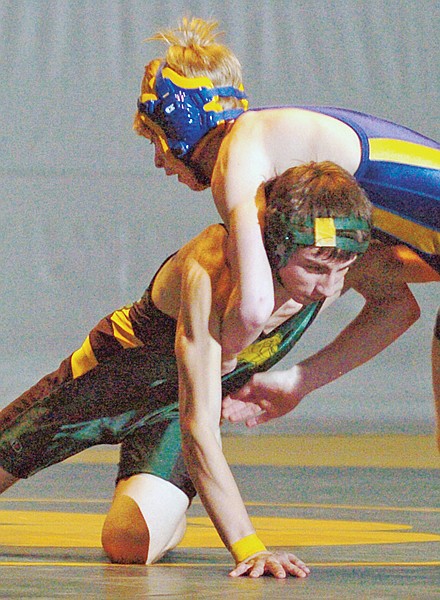 Libby's Aaron Seefeldt goes up against Whitefish's Wyatt Morris at 119 pounds. Seefeldt won by pin in 1:50.
Previous
Next
by
The Western News
|
January 6, 2011 7:45 PM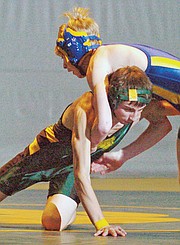 The Libby High School wrestling squad swept all 10 contested matches over Whitefish on Tuesday in a 66-12 rout.
Nine of the 10 victories by the Greenchain came on pins. And seven of those pins came in the first period.
Skylar Higareda had the quickest pin on the evening by taking down Kyle Tracy in just 33 seconds at 125 pounds. Devin Williams pinned Jason Newbury in 1:00 at 135 pounds. Dylan Berget stuck Robby Neff in just 1:15 at 160 pounds.
Isaac King won by pin in 1:39 at 112 pounds over Tristan Armstrong. Aaron Seefeldt at 119 pounds and Logan Neubauer at 189 pounds each disposed of their counterparts in 1:50. Austin Bailey pinned Marcello Theodoro in 1:53 at 171 pounds.
Aundre Condit pinned Madison McWhirter in 2:43 at 140 pounds. Mitch Haugen won by a pin in 2:50 over Wyatt Price.
At 215, Gunnar Moe took an 11-5 decision over Jacob Forrest.
Whitefish's only victories came on forfeits at 98 pounds and heavyweight. Neither school entered wrestlers at 105 or 145. Robin Kyes won by forfeit at 152 pounds.
Whitefish also competed against Ronan in a dual on the same day, losing by a count of 48-36.
Libby, which was ranked No. 4 in Class A in the most recent statewide coaches' poll, was scheduled to wrestle on Thursday at Polson. The Greenchain will head to the Western A Duals in Ronan on Friday and Saturday.
Libby 63,Whitefish 12
Tuesday at Whitefish
98 – Kaleb Mohn, W, won by forfeit.
105 – Double forfeit.
112 – Isaac King, L, pinned Tristan Armstrong, 1:39.
119 – Aaron Seefeldt, L, pinned Wyatt Morris, 1:50.
125 – Skylar Higareda, L, pinned Kyle Tracy, 0:33.
130 – Mitch Haugen, L, pinned Wyatt Price, 2:50.
135 – Devin Williams, L, pinned Jason Newbury, 1:00.
140 – Aundre Condit, L, pinned Madison McWhirter, 2:43.
145 – Double forfeit.
152 – Robin Kyes, L, won by forfeit.
160 – Dylan Berget, L, pinned Robby Neff, 1:15.
171 – Austin Bailey, L, pinned Marcello Theodoro, 1:53.
189 – Logan Neubauer, L, pinned Tyler Hunt, 1:50.
215 – Gunnar Moe, L, dec. Jacob Forrest, 11-5.
Hwt – Wolf Zinke, W, won by forfeit.
---