Carli H. Clapper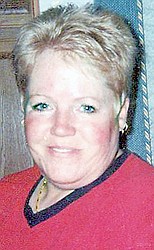 |
January 6, 2011 7:21 PM
Carli H. Clapper died on Saturday, Dec. 18, 2010 at her residence in Libby.
She was born Feb. 19, 1953 in Helena. She attended grade school and high school in Shelby. Her parents were Donald and Marie Clapper.
She enjoyed camping, picnicking, get-togethers with friends and family, fishing and spending time with her grandchildren.
She loved Jesus and church very much. She attended the Church of God in Libby.
Carli was a blessing on this earth to all who knew her and very dear to her children. She loved her little dog, Panda, more than life itself. She was a wonderful mother, grandmother, friend and you knew you could always count on her.
She was a great cook and she loved Joyce Meyers and Sharon Osbourne. She had a large group of friends in Libby that loved her greatly and will carry on with memories. She will be very missed.
She is survived by four children, Nicole Rosenburg of Libby; Ericka McLeod of Libby; Brad McLeod of Juneau, Alaska; and Misty Joy of Oceanside, Calif.; and eight grandchildren.
A memorial will be held at a later date.
— — —
(Information submitted by family).
---