Libby's Leir fights way to state wrestling title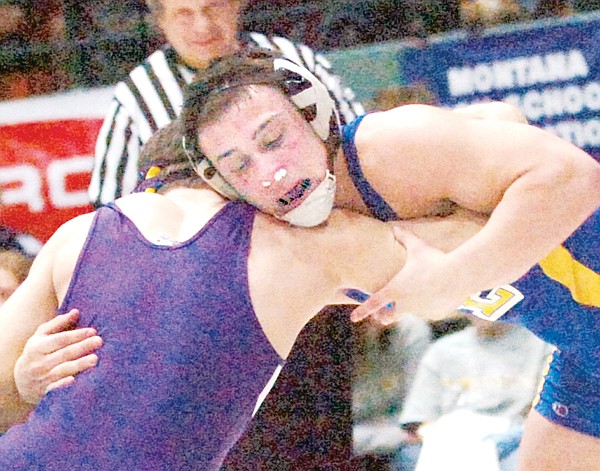 Libby junior Kyle Leir battled both Laurel's Tommy Cooper and a bloody nose in the 140-pound championship bout. Leir took a 6-4 victory for the state title.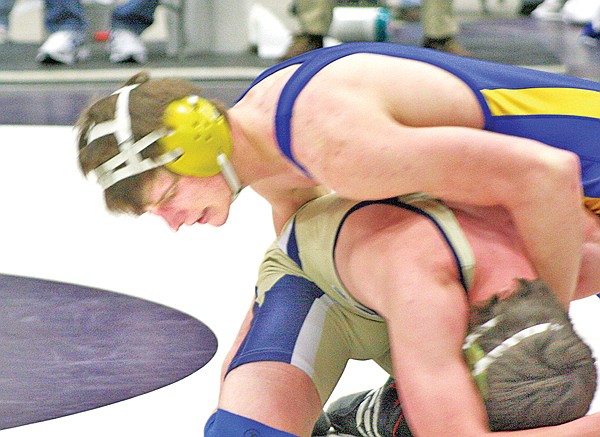 Libby's Robin Kyes competes at state.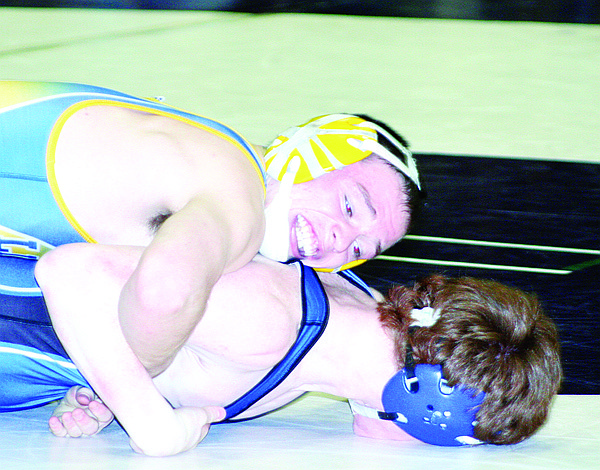 The Greenchain's Mitch Haugen went the distance in all three of his state tournament matches at 125 pounds.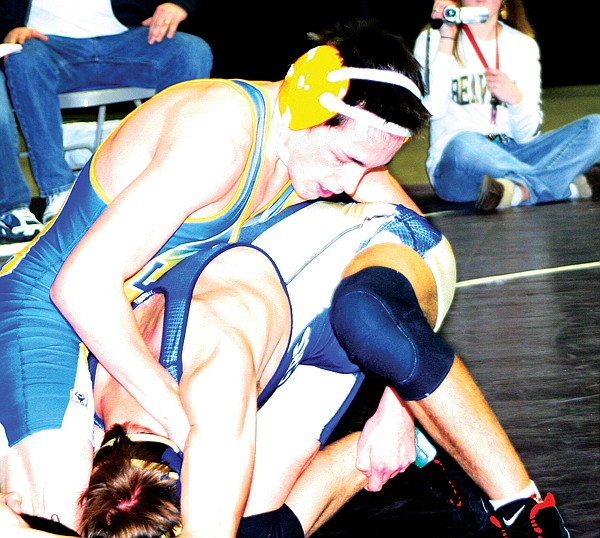 Josh Bowers competes at state last weekend for Libby.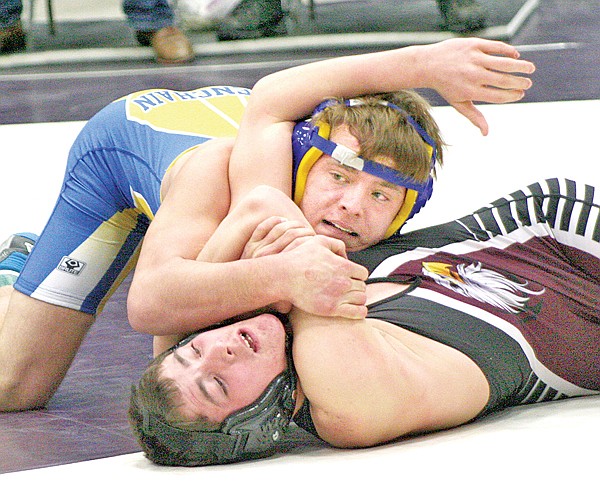 Libby junior Dylan Berget placed third at 160 pounds.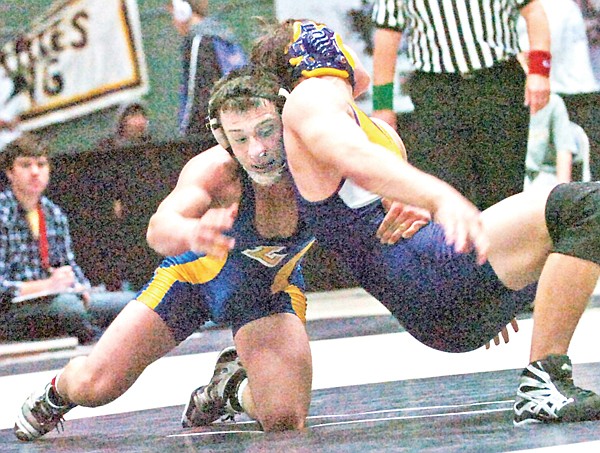 Libby's Kyle Leir makes a move on Laurel's Tommy Cooper.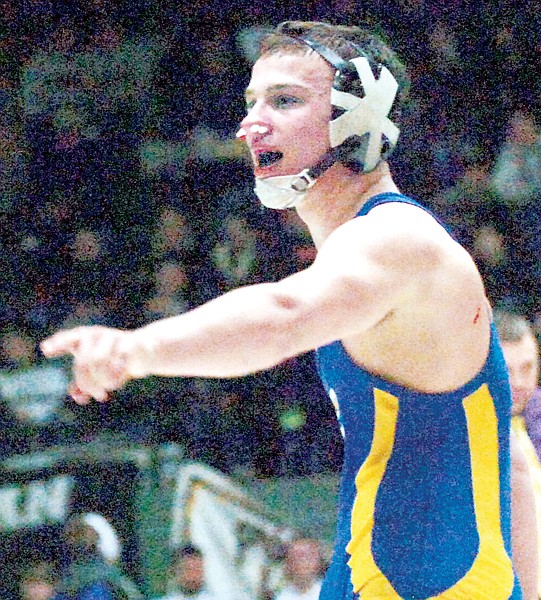 Libby's Kyle Leir also battled a bloody nose in the finals.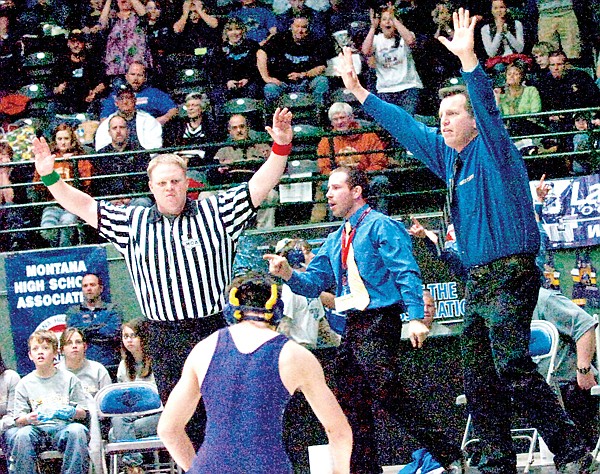 Libby coach Mort Curtiss, right, reacts to Kyle Leir's state title on Saturday.
Previous
Next
by
Brad Fuqua & Western News
|
February 17, 2011 10:48 AM
It had been two years since Libby's
Kyle Leir and Laurel's Tommy Cooper had faced one another on the
wrestling mat.
Back during Leir's freshman season, he
lost to Cooper during the State A Duals but rebounded later at the
state tournament to win the fifth-place match.
Round 3 materialized on Saturday at the
Butte Civic Center and Leir once again raised his hand in victory –
this time for a state championship.
Grappling for the Class A title at 140
pounds, Leir and Cooper showed patience while looking for the right
moment to try for points in the first period.
"He was pretty high-tempo and we were
feeling each other out at first," Leir said. "He got called for
stalling because he wasn't taking any (attempts for points). He got
in on a couple shots but I stopped him."
In the second period, Leir opened in
the down position and picked up an escape point in about 5
seconds.
"Then I took him down out of bounds but
I kept my toes in," said Leir, who went up 3-0 with that
takedown.
Leir eventually took a 5-1 lead and
then held on for the 6-4 decision. The Greenchain junior battled a
bloody nose in the match which created a few stoppages on the
mat.
"If I wasn't bleeding, I think it
would've been better for me," he said. "He's a tough kid, though.
It could've gone either way but I think I was just in a little
better shape."
Leir said he didn't really have a
particular strategy in mind in the finale.
"When you're out there, you don't
really think too much," Leir said. "You see something open up and
you hit it."
Leir finished his season with a 37-1
record – unbeaten in Montana with the only loss coming to a Bonners
Ferry wrestler. The goal all along this season has been to win
state.
"If you're not going to a tournament to
win it, what's the point?" he said.
Leir had perhaps a tougher match in the
semifinals in a 4-2 win over Sidney's Jayme Kelly. In their
first-ever meeting, Leir trailed 2-0 early but got things going in
the second period and controlled the match the rest of the way.
Leir cruised into the semifinals with a
pin in 44 seconds over Dillon's Jacob Lenegar and an 11-3 major
decision over Glendive's Cole Bilbrey.
Leir will return for his senior season
with an eye on another state title. Leir said he expects to gain
weight and could possibly wrestle at 145 but may try to stay at
140.
Another Libby junior, Dylan Berget,
also placed at the season-ending tournament. Berget snagged third
place at 160 pounds with a 5-1 decision over Belgrade's Jordan
Malarchick.
Berget won his first two matches by
decision to set up a showdown against Laurel's Dylan Kramer in the
semifinals. Kramer ended up winning by pin with just 1 second left
in the third period. He went on to lose to Lewiston's Connor
Malone, 4-3, in the championship match.
Berget fell down into the consolation
bracket but advanced to the third-place match following a 7-2 win
over Frenchtown's David Anderson. That set up his final bout
against Malarchick. Berget's early wins were over Sidney's Dace
Fisher (6-0) and Havre's Grant Pattison (5-1).
As a team, Libby took 14th place –
third-best among Northwestern A schools. Polson placed seventh and
Ronan was 10th. Columbia Falls finished right behind Libby in
15th.
The conference had two other state
champions – Ronan's Cole McArthur (171 pounds) and Toby Cheff
(189). Craig Feistner of Polson (112) and Justin Whitman of
Columbia Falls (125) lost in the finals.
Austin Bailey was the only other Libby
wrestler to win more than one match at state. Bailey – a
171-pounder – did not place with a 2-2 record and missed advancing
into the fifth-place match after a 5-0 loss to Layne Johnson of
Miles City. Bailey's wins came on pins over a pair of Billings
Central wrestlers – Forrest Mawyer (5:27) and Sean Getchell
(1:40).
Isaac King (105), Mitch Haugen (125),
Aundre Condit (140) and Robin Kyes (152) each posted one victory.
King took a 20-11 major decision over Dillon's Chance Snellman;
Haugen had a 5-2 decision over Havre's Thomas Gruber; Condit pinned
Browning's Kiin Salois in 3:32; and Kyes stuck Dillon's A.J.
Johnston in 1:55.
Other wrestlers competing for the
Greenchain were Aaron Seefeldt (119), Devin Williams (130), Josh
Bowers (145), Ricky Roach (152), Justin O'Brien (160) and Logan
Neubauer (189).
State A wrestling
Friday-Saturday at Butte Civic
Center
Team Scoring
Laurel 198, Havre 186, Belgrade 179.5,
Glendive 152, Corvallis 151, Frenchtown 139, Polson 120, Miles City
115, Sidney 105.5, Ronan 92.5, Dillon 84, Lewistown 84, Hardin
66.5, Libby 57, Columbia Falls 54, Billings Central 36, Hamilton
33, Anaconda 30, Livingston 23, Whitefish 6, Butte Central 3,
Browning 1.
Championship Matches
98–Karson Kukes, Laurel, dec. Bryant
Dorn, Hardin, 6-2.
105–Dillon Tennant, Glendive, pinned
Glenn Hensley, Frenchtown, 4:59.
112–Tyler Kinn, Glendive, dec. Craig
Feistner, Polson, 8-2.
119–Duell Stadel, Havre, dec. Bryce
Weatherston, Belgrade, 6-3.
125–Kolter Kukes, Laurel, maj. dec.
Justin Whitman, Columbia Falls, 8-0.
130–Zac Westre, Frenchtown, dec. Shawn
Tezak, Dillon, 5-4.
135–Travis Davis, Corvallis, dec.
Brennan Gorder, Sidney, 4-2.
140–Kyle Leir, Libby, dec. Tommy
Cooper, Laurel, 6-4.
145–Eli Hinebauch, Havre, maj. dec.
Riley Nagel, Corvallis, 8-0.
152–Brad Nordal, Frenchtown, dec. Shane
Cooley, Miles City, 10-8.
160–Connor Malone, Lewistown, dec.
Dylan Kramer, Laurel, 4-3.
171–Cole McArthur, Ronan, dec. Casey
Schaub, Havre, 10-6.
189–Toby Cheff, Ronan, pinned Levi
Cade, Belgrade, 3:19.
215–Jess Padden, Laurel, dec. Trevor
Conrad, Glendive, 4-2.
Hwt–Chris Kurkowski, Miles City, dec.
Allen Neulib, Sidney, 7-2.
Libby Results
105–Isaac King (1-2) – Pinned by
Chandler Metcalf, Hardin, 3:11; maj. dec. Chance Snellman, Dillon,
20-11; pinned by Matt Wolter, Frenchtown, 1:42.
119–Aaron Seefeldt (0-2) – Pinned by
Duell Stadel, Havre, 1:16; pinned by Michael Ledford, Hamilton,
2:35.
125–Mitch Haugen (1-2) – Dec. Thomas
Gruber, Havre, 5-2; lost by dec. to Kolter Kukes, Laurel, 6-1; lost
by dec. to Layne Lantis, Glendive, 5-1.
130–Devin Williams (0-2) – Lost by maj.
dec. to Zach Westre, Frenchtown, 12-0; pinned by Zac Brady,
Belgrade, 4:12.
140–Kyle Leir (4-0) – Pinned Jacob
Lenegar, Dillon, 0:44; maj. dec. Cole Bilbrey, Glendive, 11-3; dec.
Jayme Kelly, Sidney, 4-2; dec. Tommy Cooper, Laurel, 6-4.
140–Aundre Condit (1-2) – Pinned by
Devan Williams, Corvallis, 0:38; pinned Kiin Salois, Browning,
3:32; pinned by Raymond Jessop, Corvallis, 2:26.
145–Josh Bowers (0-2) – Pinned by Kody
Heard, Dillon, 5:25; pinned by Jesse Albrecht, Laurel, 3:25.
152–Robin Kyes (1-2) – Pinned A.J.
Johnston, Dillon, 1:55; pinned by Kameron Pribyl, Havre, 3:00;
pinned by Auston Hergenrider, 4:58.
152–Ricky Roach (0-2) – Pinned by Brad
Nordahl, Frenchtown, 1:17; pinned by Jacob Williams, Havre,
3:37.
160–Dylan Berget (4-1) – Dec. Dace
Fisher, Sidney, 6-0; dec. Grant Pattison, Havre, 5-1; pinned by
Dylan Kramer, Laurel, 5:59; dec. David Anderson, Frenchtown, 7-2;
dec. Jordan Malarchick, Belgrade, 5-1.
160–Justin O'Brien (0-2) – Pinned by
Dylan Kramer, Laurel, 0:37; pinned by David Anderson, Frenchtown,
0:53.
171–Austin Bailey (2-2) – Pinned
Forrest Mawyer, Billings Central 5:27; pinned by Matt Merenz,
Dillon, 1:56; pinned Sean Getchell, Billings Central, 1:40; lost by
dec. to Layne Johnson, Miles City, 5-0.
189–Logan Neubauer (0-2) – Pinned by
Trevor Howe, Laurel, 1:01; lost by dec. to Bryce Wigert, Anaconda,
6-3.
---