Lady Loggers down Troy by 16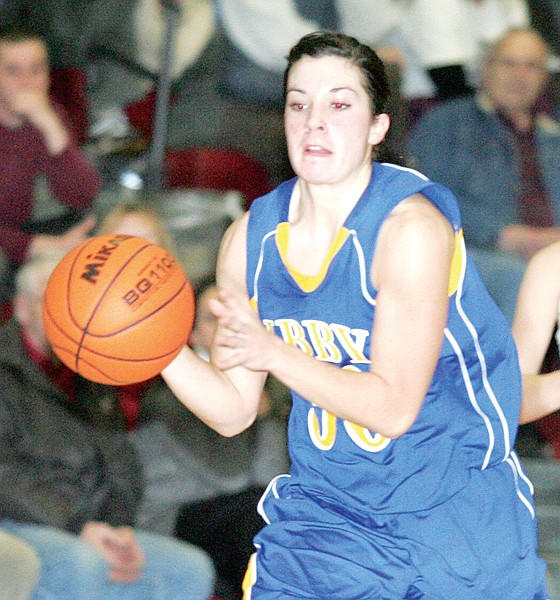 Libby senior Logan Best passes on Thursday against Troy.
by
Brad Fuqua & Western News
|
February 17, 2011 10:44 AM
Approaching the game with newfound
aggression, the Troy High School girls basketball appeared as
though they might at least give Class A Libby a scare on Thursday
night in a non-league matchup.
The first time the two teams played on
Jan. 13, Libby rolled to an early lead and ended up with a 34-point
victory. This time, the Lady Loggers had to work a bit harder but
still grabbed the victory, 43-27.
"We did much better … their pressure
got us a little bit and that was the difference in the game," Troy
coach Neil Newton said. "That second quarter, that was it."
Newton was referring to Libby's 9-0 run
over the duration of the second quarter. The 13-point halftime lead
was too much for the Trojans to overcome in the second half.
"We knew these Troy girls were improved
and we knew if we weren't ready to play them and were flat-footed,
they could drive the ball to the basket, which they did," Libby
coach Jim May said. "They missed some shots there in the first half
otherwise it would've been a lot closer."
The game was tied twice in the first
quarter at 6-6 and 8-8. The Lady Loggers finished strong with two
unanswered baskets over the final 2:30 – jumpshots by Sheena Good
and Alysha Martin – for a 12-8 lead.
In the second quarter, Libby blanked
the Trojans. Junior Kim Tangen worked hard inside for a basket just
26 seconds in and then she scored on a second-chance shot about 3
minutes in to help Libby pull away. Jaime Gilden scored with 3:31
left in the first half for the Lady Loggers' first double-digit
lead at 18-8.
Still, Libby didn't seem to be firing
on all cylinders.
"This isn't the rhythm we wanted, this
isn't the pace we wanted," May said. "We had some big enough plays
down the stretch there that we can build on in practice but we've
got to get back in traffic."
Libby got its lead up to 23-8 in the
third quarter to complete a 15-0 run. Troy broke the spell with a
5-0 run of its own on a jumper by Kimmy Klin, free throw by
Michaela Curry and a long two-pointer by Jackie Pepiot. Jordan
Williams then blocked a shot with 5:10 left in the third and it
seemed as though Troy had stolen the momentum.
But Libby regained its composure and
led by a dozen by the end of the quarter. In the fourth, both teams
lit up the scoreboard more as the Loggers pulled away for good.
Pepiot led Troy scorers with 11
points.
Libby had three players hit double
figures with 14 by Gilden and 10 each by Martin and Logan Best.
Gilden also had 10 rebounds, seven steals and two blocks.
Libby 43, Troy 27
Thursday at Troy Activity Center
Scoring by Quarters:
Libby 12 9  6 16—43
Troy    8  0 7  12—27
LIBBY (43)
Martin 4 2-3 10, Gilden 6 2-2 14, Best
2 6-8 10, Barton 1 0-0 2, Tangen 2 0-4 4, Good 1 0-0 2, Walker 0
1-2 1, Shaw 0 0-0 0, Forster 0 0-0 0, Johnson 0 0-0 0, Wilson 0 0-0
0. Totals 16 11-19 43.
TROY (27)
Cummings 0 0-0 0, Olds 0 0-0 0, Hines 0
0-0 0, Klin 2 3-6 7, Pepiot 5 0-0 11, Williams 1 0-0 2, Kellie
Lundin 1 1-2 3, Katie Lundin 1 0-0 2, Curry 1 0-4 2. Totals 11 4-12
27.
---