China Leigh Clemens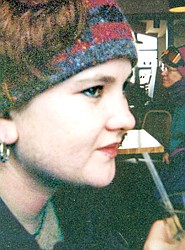 |
February 17, 2011 10:53 AM
China Leigh Clemens, 37, died Thursday,
Jan. 27, 2011 in Whitefish.
She was born May 26, 1973 in
Jacksonville, Fla., to Sara and Homer Fielden Booe where she lived
until moving to Libby in 1994.
She married Steve Clemens in 1998 and
they moved to Whitefish. For years, they had a trucking business as
independent owners with Landstar Trucking.
China loved reading, skiing at Big
Mountain and her dogs and cat. She was also an avid
birdwatcher.
She was preceded in death by a brother,
Thomas.
She is survived by her husband, Steve
Clemens of Whitefish; mother, Sara Morton and husband Gary "Red"
Morton of Libby; and father, Homer "Skip" Fielden Booe III of
Kingsland, Ga.
Many friends also grieve her death.
— — —
(Information provided by family).
---