Troy council fills vacancy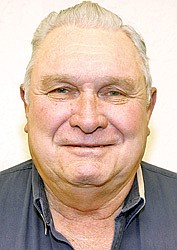 by
Canda Harbaugh & Western News
|
February 3, 2011 4:24 PM
The Troy City Council appointed a local
businessman and former councilmember on Monday to fill the vacancy
created last month when Loretta Jones resigned.
John Clogston, a regular at city
council meetings, was chosen to finish out the remaining 11 months
of the term. He served on the council in 2005 through 2006 after
being appointed to fill a vacancy.
"All I can say is I'd try to do my best
on the board," he told councilmembers before they conducted a vote,
"and I'm sure that everybody here realizes that none of us walk on
water and you better not believe that I do because I know I
don't."
The three members of council
unanimously voted in favor of appointing Clogston over a second
candidate, Jim Carr.
Clogston moved to Troy with his wife
eight years ago from southern Nevada. The couple owned and operated
the Home Bar until about six months ago when they closed the
establishment.
"I can do civic duty things now,"
Clogston said. "I thought about running (in the election) last time
but I couldn't afford to lose one patron."
Clogston said he recognizes the
difficulties facing the council and Mayor Don Banning, who have
been at odds with each other for a year now, but that one
councilmember alone can't change the circumstances.
"We all have to pull together or try
to," he said.
A familiar face at council meetings,
Clogston has on occasion posed questions to the council and voiced
his opinions. In a particularly stressful meeting between council
and mayor last October, Clogston caused thunderous applause when he
told the city leaders to quit "bickering" and begin the "business
of running the city."
"All small towns have their politics
that they put into things," Clogston said Monday following his
appointment. "You have to just sort of bend with the wind a little
bit like the willow tree."
In addition to his short time on
council, Clogston served six years on the board of a large electric
cooperative in Nevada and four years on a water company board.
After remaining neutral for most of the
tumultuous year, Jones quit last month, citing the way in which
Banning handled an issue with the council as the last straw. Jones
had been appointed to replace Larry Coryell, who also cited Banning
as his reason for resigning from the council in January 2010.
---