Foreign students excelling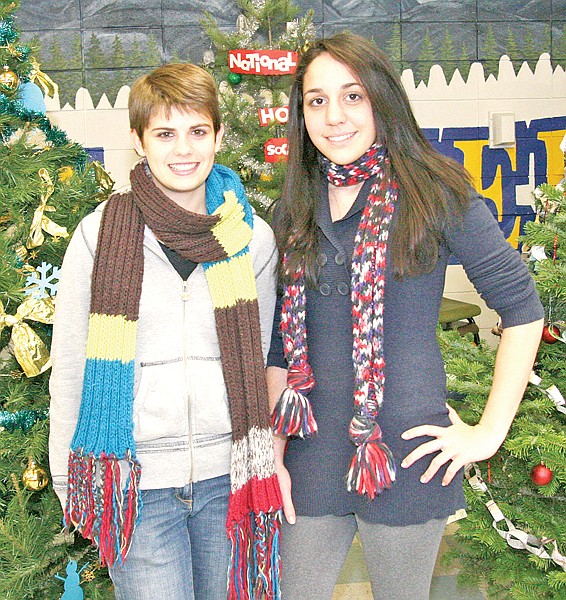 <p>Aurelie Henno, left, Bruna Cordoso are foreign-exchange students at Libby High School</p>
by
Sandra Faye Douthit - Reporter
|
December 27, 2011 8:50 AM
Pair is acclimating to American lifestyles
Sitting in the Commons area of Libby High School, Bruna Cardoso and Aurelite Henno look like ordinary students. However, both have traveled thousands of miles to experience the U.S. and Libby, Mont.
Cardoso, 17, of Porto Seguro, Brazil, is a senior at Libby High School as a foreign exchange student this year. However, graduating in Libby may not be enough to secure a graduating status in Brazil. 
"I just don't know yet," Cardoso said. "I will have to go back to Brazil for another year of school and then take a test to get in to college."
Cardoso was unsure of graduating from Libby because technically she still has more school ahead of her. College studies in Brazil are free if a student passes the test offered for admission and it is very difficult.
Cardoso came to Libby at the beginning of the school year as part of the Youth for Understanding Organization.
Cardoso spent five days interacting with her Libby host family, the Hageness family, via email before meeting them face-to-face. Host families volunteer their homes to exchange students.
Cardoso spent three months in New York last winter studying more of the English language, although she has been learning the language for six years.
Despite the time she spent in the U.S. last year, Libby is very different for her.
"It is very cold here," Cardoso said. "And, the food is very greasy."
Cardoso admits she misses her family, but happy to have some time on her own. She will celebrate her 18th birthday on Jan. 4.
"I wish I wasn't turning 18-years old here," Cardoso said. "In Brazil 18-years-old is an adult — I could party there, can't party here."
After high school, Cardoso wants to pursue studies in medicine or psychology.
"I don't know if I want to be a doctor or a psychologist," Cardoso said. "I just know I want to work with people and help them."
For the holidays, Cardoso will travel with the Hageness family to North Dakota.
Cardoso is looking forward to getting an apartment with friends during college. She also hopes to travel more, she would love to go to Europe and South Africa.
Finding friendship in a commonality, Henno and Cardoso would occasional look to one another for answers during the interview. Prompting the girls to begin asking each other questions.
Henno, 18, of Brussels, Belgium, is a senior at Libby High School as a foreign exchange student this year. Although Henno has already graduated from high school in Brussels she has been enjoying the experience.
"I just want to continue learning English, so I will know it really well when I go to college," Henno said.
Henno participated in the exchange program through the World Education Program (WEP). Currently, the Kirschenmann family hosts Henno.
Both girls have made friends with girls their own age within their host families, referring to them as "host sisters."
Henno, like Cardoso, dislikes some of the food in the U.S.
"There is a lot of fast food here and no real sit-down restaurants," Henno said. "My host mom cooks a lot though and it is like Belgium food."
Without hesitation, Henno stated her relief in the distance between her and her family.
"I just wanted to be away for a year on my own," Henno said.
This is Henno's first time in the U.S. She knew it would be different from her country, however, she has experienced differences she did not anticipate.
"It's cold in Belgium, so the cold doesn't bother me — it is colder here though," Henno said. "I'm excited to spend Christmas with my host family."
Henno plans to study medicine in Belgium and hopes to become a surgeon.
Another commonality for Henno and Cardoso is the cultural difference they find with Americans.Belgium and Brazil are countries where people greet one another with kisses and hugs — openly more affectionate than most Americans.
"In the U.S. people don't say 'hello' the same way, with kisses on the cheek," Henno and Cardoso said.
They both agreed the "personal space" most Americans need is at least double the amount of space Europeans and South Americans give one another.
---