Noah Miller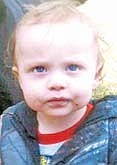 |
April 21, 2011 12:00 PM
Noah Miller celebrated his first birthday April 7, 2011.
He is the son of Jake and Katie Miller of Libby. His siblings are Natalie, 10, Noelle, 5, and Nadia, 4.
Paternal grandparents are Grace and Steve Miller of Priest River, Idaho.
Maternal grandparents are Rex and Kayleen Munsel of Libby.
---