Nutrition program encourages students to eat healthier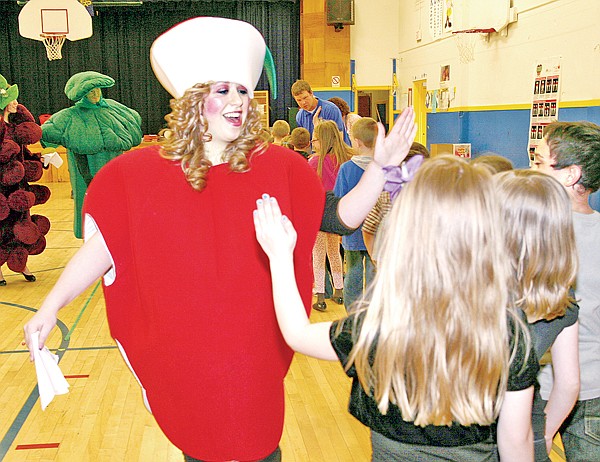 Miranda Raab, playing an apple, gives Libby Elementary students high-fives as they line up last week to taste fruits and vegetables during a special event at the school. Several volunteers dressed like fruits and vegetables for the event to encourage students to eat healthy.
by
Heidi Desch Western News
|
April 7, 2011 12:00 PM
What gets elementary students excited
to eat their fruits and vegetables?
Apparently a little bit of
encouragement from folks dressed as those same fruits and
veggies.
The human-fruit and human-vegetables
cheered on students as they passed through food lines in the Asa
Wood gym last week. Students quickly helped themselves to
broccoflower and star fruit, in addition to grapes, carrot sticks
and snap peas.
Those costumed folks also gave out high
fives as students picked up their stickers that said "I tried
it!"
The special event was part of an effort
to get students to eat healthier. This school year students have
been introduced to a number of fruit and vegetables on the regular
lunch menu. A grant helped fund the effort, which was coordinated
with the school's food vendor.
"It's been very successful," said Lois
Thatcher, wellness coordinator. "We want to reduce processed
foods."
When a new food appears on the menu,
some students take a few times before they get used to it, but the
program has been successful, according to Thatcher.
"They are actually eating better than
most of us thought they would," she said.
Teachers have incorporated healthier
eating into the curriculum also.
Students are learning the history of
some foods. Like that Christopher Columbus brought cantaloupe seeds
to America.
Students also made posters with
drawings and facts about fruits and vegetables.
"It's been wonderful," Thatcher
said.
---