Wildcats roll over Libby by 36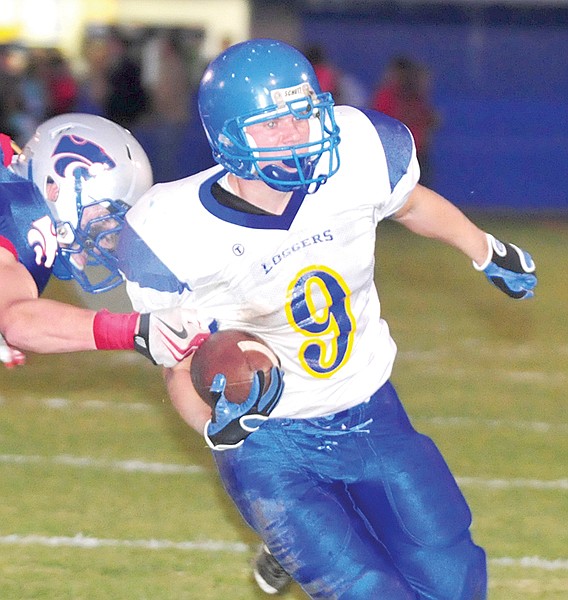 Libby's Corey Chapman picks up yardage vs. the Wildcats.
by
The Western News
|
September 28, 2010 6:14 PM
The Libby High School football team fell behind early on the opening kickoff and could never recover in a 46-10 loss on Friday night at Columbia Falls.
Devyn Rocker returned the opening kickoff 96 yards for a touchdown. By the end of the first quarter, the Wildcats were leading, 20-0.
Libby's only touchdown came with 4:24 left in the second quarter on a Corey Chapman run from six yards out. Patrick Valentine hit a 30-yard field goal in the third quarter to go along with an extra point.
The Wildcats, meanwhile, were piling up big plays. Nate Thompson scored on a 74-yard run in the first and Kaleb Johnson found paydirt on an 81-yard pass from Austin Barth.
Columbia Falls led 33-7 at halftime.
The Loggers could not establish the running game with the top rusher, Chapman, getting 34 yards on seven carries. Kelly May completed 6-of-21 passes for 76 yards and Micah Germany was 4-for-11 passing for 56 yards. The Wildcats nabbed three interceptions in the game.
On the receiving end for Libby, Alex Cislo had three catches for 53 yards. Josiah Coker and Kody Berget each had a pair of receptions. Tyler Troy had a 34.5-yard average on two kickoff returns – one of those a 57-yarder.
Libby (0-1, 2-3) will play on Friday at 7 p.m., at Whitefish during that school's homecoming.
C. Falls 46, Libby 10
Friday at Columbia Falls
Scoring by Quarters:
Libby                     0      7    3    0—10
Columbia Falls    20    13    7    6—46
First Quarter
CF–Rocker 96 kickoff return (Barth kick)
CF–Thompson 74 run, (Barth kick)
CF–Johnson 20 yard pass from Barth (kick failed)
Second Quarter
CF–Johnson 81 pass from Barth (kick failed)
L–Chapman 6 run (Valentine kick)
CF–Jones 12 run (Barth kick)
Third Quarter
L–FG Valentine 30
CF–Johnson 14 pass from Barth (Barth kick)
Fourth Quarter
CF–Barth 3 run (pass failed)
Libby Individual Statistics
RUSHING–Chapman 6-34, Thrailkill 7-24, Rybar 4-19, May 7-17, K. Berget 1-12, Germany 1-(-6).
PASSING–May 6-21-1-76, Germany 4-11-2-56, K. Berget 0-1-0-0.
RECEIVING–Cislo 3-53, Coker 2-36, K. Berget 2-22, Thrailkill 1-14, Chapman 1-5, Wilson 1-2.
---