Trojans dig deep hole, drop 7-B game at home
by
Brad Fuqua & Western News
|
September 28, 2010 6:17 PM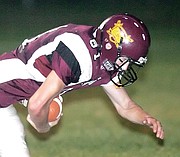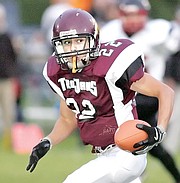 The hole proved to be too deep.
Down 20-0 with less than four minutes to play in the first half, Troy needed to get some points on the scoreboard. Mike Ormiston and Kody Hoffman provided relief by hooking up on a long pass play and the Trojans played better the rest of the way.
Troy even ended up outgaining Plains-Hot Springs by more than 100 total yards while collecting a half-dozen more first downs. But the Savage Horsemen held on for a 26-20 victory on Friday night.
"Homecoming is a long week and I think our kids were a little flat to start with," THS coach Rich McElmurry said. "I thought we played OK in the second half but in the first half, we didn't play very well."
Plains, looking for its first win of the season, took the opening kickoff and used up half of the quarter driving to the end zone. Taylor Firestone, who rushed for 108 yards on 20 carries, scored on a 16-yard run.
"We just didn't make very good decisions and we didn't block very well up front," McElmurry said. "We played our age tonight."
The Trojans responded with a long drive of their own on a series that started at their own 17. Cory Orr had a key third-down run of 16 yards to keep the chains moving. Later on fourth-and-15, Ormiston found Tommy Nyland on a 17-yard pass.
But after reaching the 12, the drive stalled and a fourth down pass fell incomplete.
"I thought we should've scored early on with the first series, a nice long drive," McElmurry said. "The pass got knocked down in the end zone and I thought that was a big play."
Plains took over and again marched to the end zone for a 13-0 lead. The Horsemen used a bit of trickery on third-and-18 on a fullback option pass that was good to Tanner Ostrom for 73 yards. Ostrom later scored on a 3-yard TD pass from QB Carson Lilja.
The Horsemen scored on defense with 4:27 left in the first half. Lilja stepped in front of an Ormiston pass and returned it 38 yards for a touchdown.
Troy then hit paydirt on the ensuing series. On third-and-eight, Ormiston tossed a 58-yard TD pass to Hoffman with 3:06 left in the second. The rest of the half was fairly quiet although Troy's Trevor Cratty nearly came away with an interception.
In the third quarter, the game began to get very interesting. The Trojans moved the ball more easily and stopped the Horsemen on two straight series. With 56 seconds left in the third, Ormiston found Nyland over the middle on an 18-yard TD pass to cut the Plains lead down to 20-14.
Plains had an answer, however, and scored on its next possession. Firestone broke off a 23-yard run to the end zone with 9:13 remaining.
Troy responded with a promising drive that ended with an interception. However, the Trojans did later score on a 40-yard Hoffman reception from Ormiston. Troy converted twice on fourth down to keep the drive alive.
With 3:39 left in the game, Troy attempted an onside kick. Trent Cratty fell on the ball and the Trojans had life. However, the Plains defense was ready and made two straight tackles for losses to put Troy in a hole. On third and fourth down, pass attempts fell incomplete.
The Trojan defense did force one last punt for at least a chance to pull out a miracle. However, the punt was fielded on the run, the ball came loose and Plains recovered to clinch the victory.
It was a difficult loss to swallow for the Trojans.
"We had some good things happen with the pass but we had some bad things, too," McElmurry said. "We should've blocked their punts twice. We got beat up the sidelines not on just one play … it was a combination of a lot of plays."
Ormiston completed 25-of-41 passes for 290 yards, three TDs and three interceptions. Hoffman had seven catches for 127 yards to go along with 55 yards rushing on seven carries. Nyland had six receptions for 91 yards, Orr and Derrick Winslow had six and five catches, respectively.
Troy (1-2, 2-2) plays host to Superior on Friday.
Plains 26, Troy 20
Friday at Troy HS
Scoring by Quarters:
Plains    6    14    0    6—26
Troy       0      8    6    6—20
First Quarter
P–Firestone 16 run (kick failed), 6:09
Second Quarter
P–Ostrom 3 pass from Lilja (Lilja kick), 10:33
P–Lilja 38 interception return (Lilja kick), 4:27
T–Hoffman 58 pass from Ormiston (Ormiston run), 3:06
Third Quarter
T–Nyland 18 pass from Ormiston (run failed), 0:56
Fourth Quarter
P–Firestone 23 run (pass failed), 9:13
T–Hoffman 40 pass from Ormiston (run failed), 3:39
                                 P          T
First downs              11        17
Total Yards            270        388
Rushing Yards     39-154    22-98
Passing Yards        116       290
Comp-Att-Int        7-14-0    25-41-3
Punts-Avg.            4-156     2-61
Penalties-Yards    10-75     8-80
Fumbles-Lost          4-0       2-1
INDIVIDUAL STATISTICS
RUSHING—Plains, Firestone 20-108, Bras 5-34, Hoff 3-16, Nagy 1-0, Lilja 10-(-4). Troy, Hoffman 7-55, Orr 8-34, Ormiston 7-9.
PASSING—Plains, Lilja 6-13-0-43, Hoff 1-1-0-73. Troy, Ormiston, 25-41-3-290, Rayson 0-1-0-0.
RECEIVING—Plains, Ostrom 3-84, Bras 2-30, Firestone 1-4, Hoff 1-(-2). Troy, Hoffman 7-127, Nyland 6-91, Orr 6-12, Winslow 5-51, Rayson 1-9.
---