Lady Loggers control tempo to beat C. Falls
by
Brad Fuqua & Western News
|
September 28, 2010 6:16 PM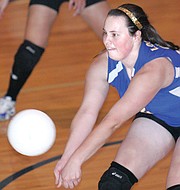 Trying to hold off Columbia Falls in the fourth game of a Northwestern A match on Saturday night, Libby's Kim Tangen found the zone.
A 5-foot-9 junior, Tangen came up big several times down the stretch in the Lady Loggers' 16-25, 25-16, 25-11, 25-20 victory.
"Kim was on fire … she was having a heydey out there," LHS coach Cindy Ostrem-Johnston said.
Leading 17-15 with Columbia Falls serving in the fourth game, Tangen came up with a kill to stop the Wildkats from getting any closer on the scoreboard. She also had kills on points 19, 20 and 21, and added an ace serve on point 23.
Libby clinched the win after a Megan Kurosky kill and a Columbia Falls hit into the net.
"Both teams were hungry for a win tonight," Ostrem-Johnston said. "This was a good confidence booster for us. We needed a win. I thought we played well as a team."
The Lady Loggers' service game proved to be too much for the Wildkats to overcome. Libby piled up 21 aces with eight by Alex Kulbeck and four by Becky Boulware.
"I thought we were serving aggressive," Ostrem-Johnston said. "We missed some serves but it was nothing that became a problem."
Libby had several nice runs at the line including an impressive stretch by Kurosky during the third game.
Columbia Falls came out of the gate and nabbed the first game by nine points. Libby composed itself, however, and dominated the next three games.
"It was a real shaky start … we made a few mistakes," Ostrem-Johnston said. "We talked about it and it's like they get so scared of losing that they don't play. Just play volleyball."
Tangen ended up with a dozen kills on the evening with another eight by Kulbeck. Lexi Hageness finished with 27 assists and Alyssa Walker had 11 digs. Lauren Wepprecht and Boulware had blocks.
Libby was happy to find the win column after a conference loss on Thursday at Ronan. In that one, the Maidens took a 26-24, 25-16, 21-25, 25-16 win.
Tangen had 11 of the team's 29 kills and Boulware came up with two blocks at the net. Walker's 15 digs led that department while Hageness put together 27 set assists and a team-high five ace serves.
The Lady Loggers, now 1-2 in the conference and 1-3 overall, will host Bonners Ferry, Idaho on Friday. Libby then heads to Whitefish on Saturday.
Libby 3, C. Falls 1
Saturday at Tate Gymnasium
Scoring by Games:
Columbia Falls    26    16    11    20
Libby    16    25    25    25
Kills–Columbia Falls 27 (Gilley 6), Libby 34 (Tangen 12). Blocks–Columbia Falls 5 (Gist 2), Libby 3 (Wepprecht, Boulware). Digs–Columbia Falls 35 (Gilley 10), Libby 29 (Walker 11). Assists–Columbia Falls 22 (Burlage 13), Libby 30 (Hageness 27). Aces–Columbia Falls 8 (Hill 3), Libby 21 (Kulbeck 8).
Ronan 3, Libby 1
Thursday at Ronan
Scoring by Games:
Libby    24    16    25    16
Ronan    26    25    21    25
Kills–Libby 29 (Tangen 11), Ronan 31 (Irvine 10). Blocks–Libby 3 (Boulware 2), Ronan 4 (Irvine 2). Digs–Libby 45 (Walker 15), Ronan 38 (McCrea 17). Assists–Libby 27 (Lexie Hageness 24), Ronan 25 (Vangunten 9, Lynch 9). Aces –Libby 13 (Hageness 5), Ronan 9 (Salmon 4).
---