At last! Libby boys beat Bulldogs
by
Brad Fuqua & Western News
|
September 28, 2010 6:20 PM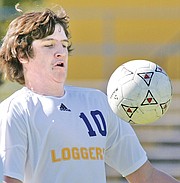 Finally, Whitefish goes down … and in memorable fashion.
The Libby boys soccer team posted a milestone victory on Saturday at Logger Stadium with a 4-3 victory over the Bulldogs. It was the Loggers' first-ever win over their conference rivals.
"It feels wonderful … it's an important game for us," LHS coach Charlie Webster said. "I think what feels even better than beating Whitefish was coming back from 3-1 in the second half. That's a huge confidence builder for a soccer team."
Libby seemed destined to lose again after falling into a two-goal hole. The Loggers took an early lead when Edson Vences set up Cree Maloney's one-touch finish.
Whitefish countered with Jack Steele's equalizer in the 17th minute, took the lead in the 29th minute on a Curran Edland shot and then went up 3-1 in the 35th minute on a penalty kick by Steele.
Down 3-1 at the break, Webster nearly abandoned his game plan.
"We were prepared for some big changes but we didn't have to implement them," Webster said. "When it was 3-1, I thought maybe I should but I'm glad I didn't. It worked out well."
The Loggers had been working hard on their short passing possession game. After a rough first half, LHS started to click.
"I think we had some good combinations today that we had not seen against good teams," Webster said. "We were able to do that against the less-skilled teams we've been playing."
Libby junior Elias Lakpa, who played one of his best-ever halves of soccer, scored in the 52nd minute to cut the Bulldog lead to one. Lapka scored on a header with the ball bouncing around in front of the net.
The Loggers dominated the rest of the way although Whitefish keeper Thomas Clark made several impressive stops to keep his team on top. Finally, Libby tied the game in the 61st minute on Crawford Dinning's unassisted goal. On the play, Dinning took control of the ball down the middle, drew the keeper out of position and then beat him.
Lapka clinched the victory in the 75th minute with a nifty backward kick. James Hare started the play with a throw-in toward Lapka, who positioned himself near the left corner of the net. Lapka faced the ball and tapped it in with his back leg. It appeared that Whitefish's Clark might have gotten a hand on the ball but it was just out of reach.
"It's a huge time for him to come up with a big game," Webster said about Lapka. "He's had some trouble finishing … but this is a huge confidence-builder for him."
Libby's second-half defense proved to be a key ingredient to the overall effort. Besides the play of David Brooks in goal, the Loggers' back-line defense of Brandon Pagacz, Greg Lundin and Caleb Lapka routinely frustrated the opponent.
Another factor in the win appeared to be Libby's deep bench. Webster substituted freely in the second half while the Bulldogs ran out of wind.
Webster was glad to finally beat Whitefish.
"I told them it is a milestone. The Libby Logger boys had never beaten the Whitefish Bulldogs in soccer and we've been trying for years," Webster said. "It's good that they finally got that accomplished. This team has played together for so long – some of them for 10 years. I'm thrilled that they got this win."
The victory also clinched a playoff spot for the Loggers. With Columbia Falls' program suspended, only four schools remain to compete for the three playoff positions and Bigfork is securely in the basement.
On Thursday, Libby stepped out of the conference for a 7-2 win over Priest River, Idaho. Playing at Roosevelt Park in Troy, the Loggers vaulted out to a 5-0 lead in the first half.
Claudio Gruschka scored two goals over the final 11 minutes of the half. Dinning, Maloney and Ricardo Macaes also found the net in the first half.
Dinning scored his second in the opening minutes of the second half and Edson Vences finished for a 7-0 Libby lead. Priest River managed two goals in the late going to avoid the shutout.
Brooks had two saves before relinquishing duties to backup Rob Hamilton, who had three saves.
The Loggers (3-0-1, 7-1-1) head to Bigfork on Thursday.
Libby 4, Whitefish 3
Saturday at Logger Stadium
Scoring by Periods:
Whitefish    2    1—3
Libby          1    3—4
First Half–1, Libby, Maloney (E. Vences), 5th minute. 2, Whitefish, Steele, 17th minute. 3, Whitefish, Edland, 29th minute. 4, Whitefish, Steele (PK), 35th minute.
Second Half–5, Libby, E. Lapka, 52nd minute. 6, Libby, Dinning, 61st minute. 7, Libby, E. Lapka, 75th minute.
Shots on goal–Whitefish 6, Libby 12. Saves–Whitefish 8 (Clark), Libby 3 (Brooks). Corner kicks–Whitefish 1, Libby 4. Total fouls–Whitefish 8, Libby 13. Yellow cards-Libby 1. Red cards–None.
Libby 7, Priest River 2
Thursday at Roosevelt Park, Troy
Scoring by Periods:
Priest River    0    2—2
Libby              5    2—7
First Half–1, Dinning (E. Vences), 2nd minute. 2, Libby, Maloney, 3rd minute. 3, Libby, Macaes (Dinning), 19th minute. 4, Libby, Gruschka, 29th minute. 5, Libby, Grushka, 40th minute.
Second Half–6, Dinning, 43rd minute. 7, E. Vences, 47th minute. 8, Priest River, Handy, 61st minute. 9, Priest River, Otero, 78th minute.
Shots on goal–Priest River 7, Libby 15. Saves–Priest River 8, Libby 5 (Brooks 2, Hamilton 3). Corner kicks–Priest River 0, Libby 4. Total fouls–Priest River 7, Libby 16. Yellow cards-None. Red cards–None.
---