Alice Mae Worrall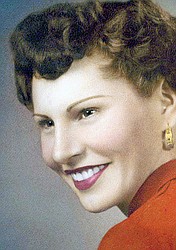 |
September 21, 2010 9:01 PM
Alice Mae Worrall, 80, died on Wednesday, Sept. 15, 2010 of natur-al causes peacefully asleep at home in Libby.
Alice was born Feb. 2, 1930 in Great Falls to Dola (LeMond) and Evert Van Kuiken.
Alice was a country girl at heart and loved animals. Her grandchildren's ages ranged from 4 to 42. Alice loved all her grandchildren very much and enjoyed her very few precious times with 4-year-old Taya.
She married Charley Worrall in 1949. They later divorced. They had three children, Chuck (Glenda), Glen (Diane), and Russ (Julie).
Preceding her in death were a brother, Jack; and a granddaughter, Nancy.
Survivors include a sister, Carol; nieces, Bonnie, Donna, Rhonda, Julie C.; nephews, Dale, Darvin, Greg, Rob and Brian; four grandchildren, Vicki, Melissa, James and Taya.
She will be especially missed by her companion of 14 years, Bill Metts.
A celebration of her life will be held Wednesday, Sept. 22 at 2 p.m., in the Calvary Community Church in Stanford.
Schnackenberg & Nelson Funeral Home in Libby and Cloyd Funeral Home in Lewistown handled arrangements.
— — —
(Information provided by survivors through Schnackenberg & Nelson Funeral Home).
---