State soccer title game up next for Libby boys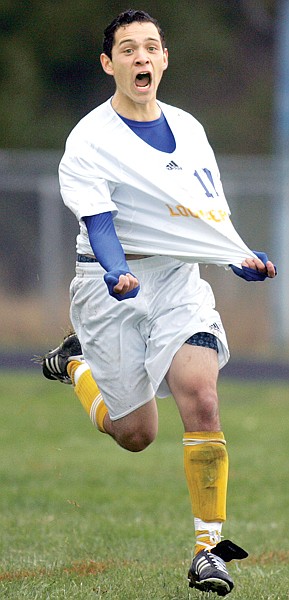 Libby's Edson Vences celebrates after scoring during Saturday's semifinal game against Livingston.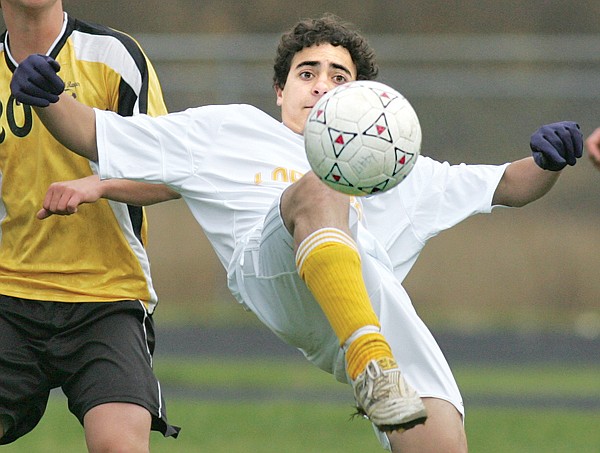 Libby's Recerdo Macaes controls the ball vs. Livingston.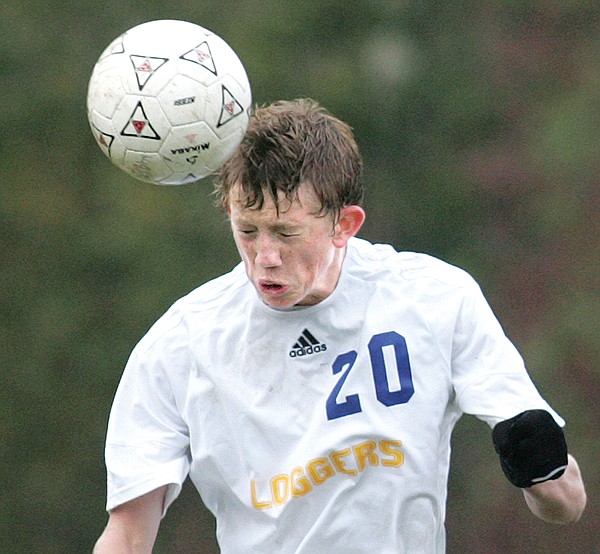 Libby's Cree Maloney advances the ball on a header against Livingston in the state semifinals.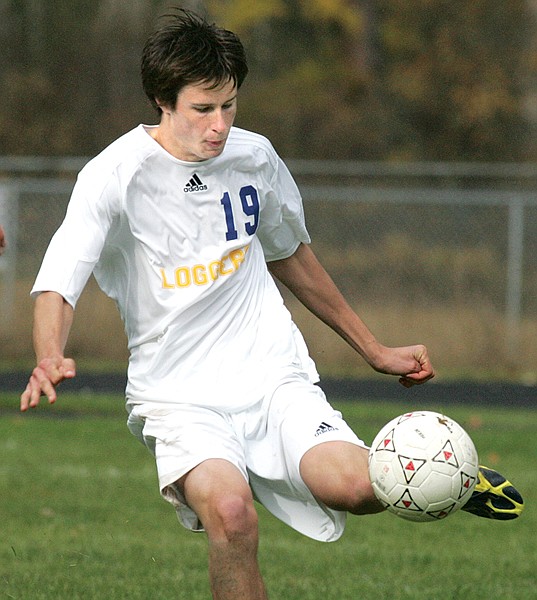 Libby's Caleb Lapka controls the ball in the semifinals vs. Livingston.
Previous
Next
by
Brad Fuqua & Western News
|
October 26, 2010 7:47 PM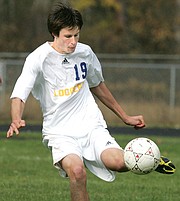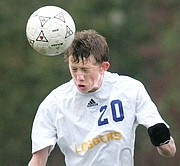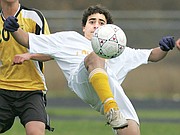 The Loggers would not be denied.
With a senior-dominated roster and yearning to reach the team goal, the Libby High School boys soccer team reached the Class A state championship game on Saturday afternoon with a 1-0 victory over visiting Livingston.
Combined with Belgrade's 1-0 win over Polson, LHS will host the grand finale at 1 p.m., on Saturday at Logger Stadium.
Both Belgrade and Libby entered the playoffs as No. 2 seeds out of their respective conferences.
Despite the close score on Saturday, Libby seemed to be in control most of the way against Livingston.
"I think we really outplayed them. The score really doesn't indicate how much better we were today than they were," LHS coach Charlie Webster said. "We probably should've scored three or four goals – we had some good chances."
Livingston nearly stunned the home crowd in the game's first minute when Nick Amsk broke into the open for a 1-on-1 opportunity against Libby keeper David Brooks. The Logger senior stopped the initial shot and a followup rebound attempt went just left to keep the game scoreless.
The Loggers put together a few scoring opportunities, including Crawford Dinning's 1-on-1 vs. keeper Kyle Lavender in the 24th minute. Dinning took a hard shot but it went right into the keeper's chest.
Finally in the final two minutes of the half, Libby junior Edson Vences came through with a goal.
"There was a header because the ball went up in the air and we got two or three good touches at that end but I really don't know who touched it," Webster said. "We kept the ball alive in the penalty box and that's what gave us the opportunity."
Vences dropped to his knees in celebration and his teammates shared in the moment. Although an entire half of soccer remained, the Loggers knew it was a big shot.
"All year they haven't been able to finish and haven't scored too many goals," Webster said. "And we knew that one goal could go a long way for us."
In the second half, the game became more physical and the Rangers dodged Libby scoring opportunities to stay within striking distance. Both keepers – Brooks and Lavender – survived collisions to remain in the game.
Libby's Cree Maloney came close to scoring on a couple of headers and he nearly hooked up with Vences on another chance.
In the 76th minute, Brooks had a big save and later in the 78th minute, the Logger defense stopped another Ranger offensive. On the play, Brooks got caught out of position and Livingston was close to setting up a shot on goal. But Libby senior Caleb Lapka made a slide into the ball to stop the chance.
"The defense played an outstanding game again ... Caleb Lapka, Greg Lundin, Brandon Pagacz, David Brooks," Webster said.
The Loggers nearly scored a second goal in the final seconds when Maloney got the ball to Dinning in the zone.
Libby (11-2-2) had a slight advantage in most statistical categories. The two teams combined for 39 fouls and four yellow cards.
"Our core group of seniors played their hearts out again. It was an outstanding game for them," Webster said. "I'm very happy for them that they get to go to a state championship."
Livingston's season ends at 7-3-4 – two of those losses against the Loggers.
Libby 1, Livingston 0
Saturday at Logger Stadium
Scoring by Periods:
Livingston    0    0—0
Libby            1    0—1
First Half–1, Libby, E. Vences, 38th minute.
Second Half–None.
Shots on goal–Livingston 2, Libby 5. Saves–Livingston 4 (Lavender), Libby 2 (Brooks). Corner kicks–Livingston 2, Libby 5. Fouls–Livingston 19, Libby 20. Yellow cards–Livingston 1, Libby 3. Red cards–None.
Class A State Playoffs
First Round
Saturday, Oct. 16
• Libby 3, Hamilton 1, OT
• Livingston 2, Whitefish 1
• Polson 2, Corvallis 1
• Belgrade 2, Stevensville 1
Semifinals
Saturday, Oct. 23
• Libby 1, Livingston 0
• Belgrade 1, Polson 0
Championship Game
Saturday, Oct. 30
• Belgrade at Libby, 1 p.m.
---