Troy students bond through 'Three Cups'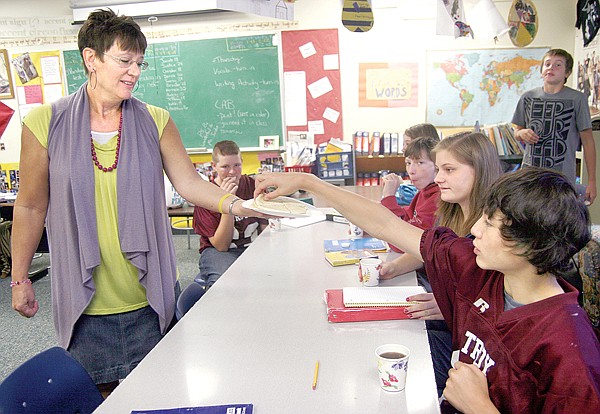 Troy English teacher Andrea Chiaverini passes out pita to eighth-grade student Xavier Hutt during an activity to connect her class with the book, "Three Cups of Tea: One Man's Mission to Promote Peace… One School at a Time."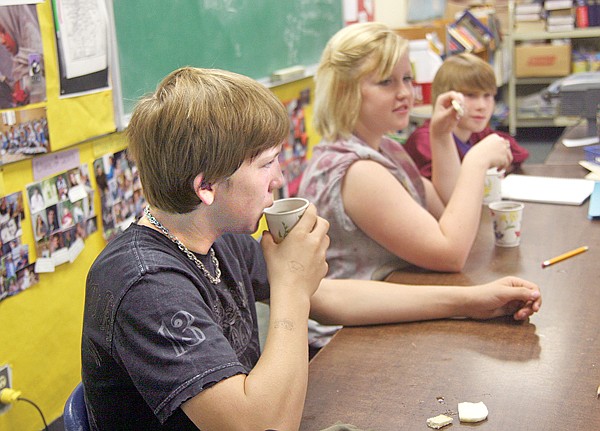 Troy eighth-graders Alex Yeadon, from left, Brenna Garrison and Ty Hight snack on turnip, pita and hot tea during their English class as part of their reading of the book, "Three Cups of Tea."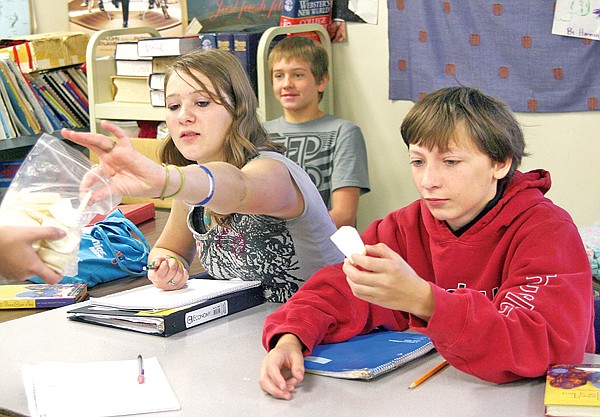 Troy eighth-graders Paige Shaver and Noah Erickson pick out a slice of turnip, a common food in Pakistan, during an activity to correspond with their reading of the book, "Three Cups of Tea."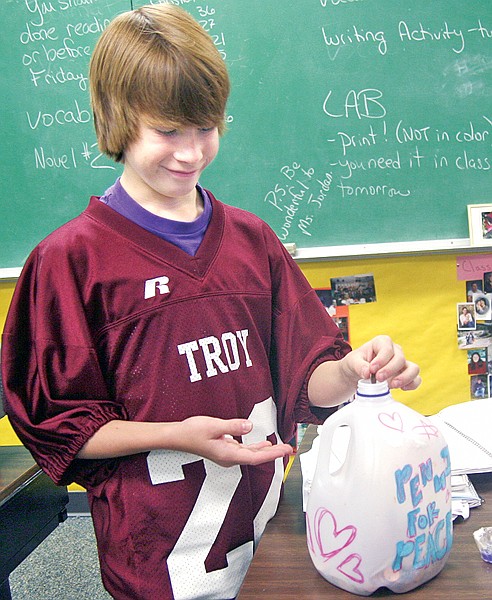 Troy eighth-grader Ty Hight places change in a milk jug. At the time, the eighth-grade girls were beating out the boys in the amount of money raised for Pennies for Peace.
Previous
Next
by
Canda Harbaugh & Western News
|
October 19, 2010 11:07 AM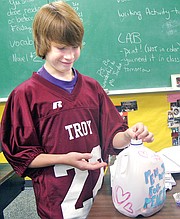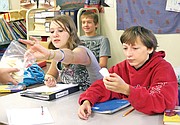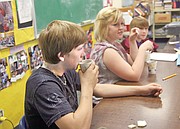 First cup as strangers, second cup as friends and third cup as family.
Andrea Chiaverini's eighth-grade English students recently drank their second cup of tea together as part of an activity in their reading of the book, "Three Cups of Tea: One Man's Mission to Promote Peace… One School at a Time."
They explained that in accordance with Pakistani custom, two strangers become friends while sharing their second cup of tea. Upon the third cup, they become family, though the process takes years.
The Troy students are learning the true tale of Greg Mortenson, a former mountaineer that has become a world-renown humanitarian by building schools and forging relationships with villagers in isolated pockets of Pakistan and Afghanistan.
Some of Chiaverini's students will appreciate the warmth of the school building a little more this winter and may even think twice before complaining about attending class – a right they've learned that children fight for daily in Pakistan and Afghanistan.
Chiaverini's students have read about a class on the other side of the world that had no building and no school supplies, but still learned to read and write by forming letters on the ground with sticks. To make the scenario more real for her students, Chiaverini took them outside and provided them with sticks for writing in dirt.
"It's not fair to them that in America we get paper and pencil, and they have to sit there and write in the mud," eighth-grader Serenite Moore said.
Chiaverini was surprised by her students' insight. Without prompting, they understand many of the lessons of the book, she said.
"They basically said, 'They're people like us,'" Chiaverini recalled. "I was impressed that they got that. That's what I wanted them to get from this book."
Though they are only in the eighth grade, the students are learning that there is a connection between education and helping bring about peace, and that Mortenson's work has helped changed attitudes in Central Asia about Americans.
"Mrs. Chiav just told us yesterday that the reason the women need more education is because the sons will come back to them and ask them if they can become suicide (bombers)," Paige Shaver said. "The women with the most education will say no."
Shaver learned that mothers who have attended school will know there is a better option.
Chiaverini heard Mortenson, co-author and the subject of the book, three years ago when he spoke at the University of Montana in Missoula. A shy man, he barely glanced up as he talked about the book and the importance of helping bring education to poverty-stricken Pakistan and Afghanistan.
After he finished speaking, Chiaverini remembers him accepting a jar of pennies from a little boy.
"He got down on both knees and looked that boy in the eyes and talked to him like he couldn't talk to the adults," she recalled. "It was very moving and made you feel like you needed to help."
Chiaverini's students are contributing to the cause by donating their own pocket change to "Pennies for Peace." Last year's students – the first of Chiaverini's to read the book – raised $195.11. The dollars stretch further in third-world countries and go toward building schools, providing teachers and supplies, and getting girls in the classroom.
The idea that everyone can help has resonated with Moore. She recalls a story in the book describing an entire village working together to construct a school.
"The kids just pick up the stones and fit them in the building where the cracks are," she said. "It's awesome. They help build the school even though they are not old enough to pick up the big blocks."
---