Loggers advance to state soccer semifinals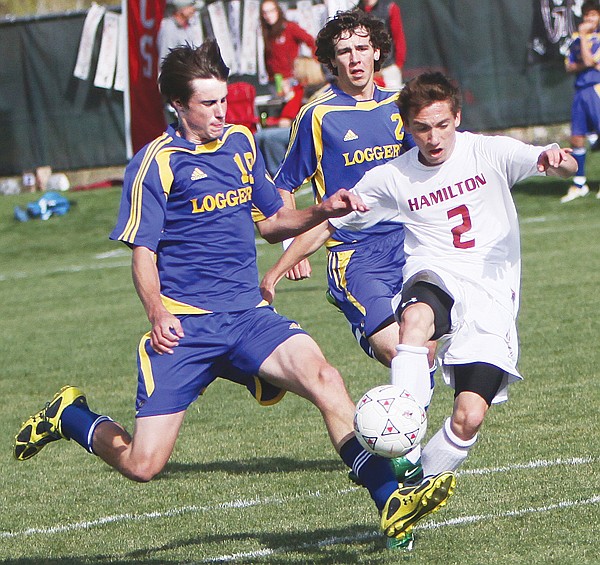 Libby's Caleb Lapka, left, battles Hamilton's Steffan Stewart for the ball during Saturday's first-round playoff game. The Loggers' Greg Lundin follows up from behind.
A header by Cree Maloney in the final minutes and goals by Ricardo Macaes and Talus Martin in overtime lifted the Libby High School boys soccer team to a 3-1 victory over Hamilton on Saturday in the first round of the Class A state playoffs.
The Loggers will host Livingston in a state semifinal game at noon Saturday.
Libby avoided a first-round exodus by scoring in the 77th minute to send the game into OT. Maloney's header came off of a throw-in from James Hare and a flick by Elias Lapka.
"Cree's hard work throughout the game was rewarded," Libby coach Charlie Webster said. "The momentum took a big swing in Libby's favor."
The Loggers scored both of their other goals in the second 10-minute overtime period. In the second OT's first minute, striker Crawford Dinning broke away from the Broncs' defense with Macaes. Dinning played a pass into Macaes's stride who struck home with what turned out to be the winning goal.
Martin later scored an insurance goal following a long punt from Libby goalkeeper David Brooks in the final minutes.
"Hamilton was tired and appeared demoralized by Libby's late-game goal," Webster said. "Libby found new energy and relied on rested players to help take control."
Hamilton, which came into the game unbeaten, took a 1-0 lead in the 28th minute on a goal by Steffan Stewart.
"Hamilton forced Libby miscues and found opportunities to score," Webster said.
Brooks was on top of his game in the net and he stopped several Hamilton offensives. Caleb Lapka also made two standout defensive plays in the first half.
Webster said Libby's offensive chances were limited because of Hamilton's quick-pursuit team defense.
In the second half, defensive play served as highlights for both teams. The Broncs bounced a couple of shots off the goal post and Libby also had chances that were denied until Maloney's header.
Brooks stopped 10 shots for Libby while Hamilton's Nash Johnson had seven saves. Hamilton had advantages of 17-15 in shots and 9-5 in corner kicks. Libby had 14 fouls compared to the Broncs' 10.
Livingston, the No. 1 seed out of the East, defeated Whitefish, 2-1, to advance. If the Loggers can get past the Rangers on Saturday, they would advance to the state championship game on Oct. 30 against the winner of Polson-Belgrade.
Belgrade advanced with a 1-0 victory over Stevensville. Polson took care of Corvallis, 2-1.
Montana High School Association brackets indicate that the state championship game would be played at Logger Stadium if Libby makes it to the finals.
Libby defeated Livingston, 2-0, earlier this season.
Libby 3, Hamilton 1
Saturday at Hamilton
Scoring by Periods:
Libby          0    1    0    2—3
Hamilton    1    0    0    0—1
First Half–1, Hamilton, Stewart (Brincon), 28th minute.
Second Half–2, Libby, Maloney (Lapka, Hare), 77th minute.
Second Overtime–3, Libby, Macaes (Dinning), 91st minute. 4, Libby, Martin (Brooks), 99th minute.
Shots on goal–Libby 15, Hamilton 17. Saves–Libby 10 (Brooks), Hamilton 7 (Johnson 7). Corner kicks–Libby 5, Hamilton 9. Total fouls–Libby 14, Hamilton 10. Yellow cards–Libby 1, Hamilton 4. Red cards–None.
---