Election 2010: State House District 1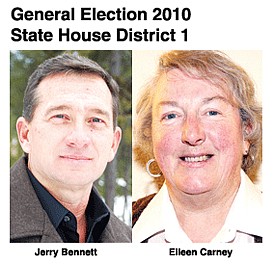 State House District 1 graphic
by
The Western News
|
October 12, 2010 9:27 PM
As part of its general election coverage in Lincoln County, The Western News is publishing information about candidates and ballot measures. Incumbent Gerald "Jerry" Bennett, Republican, and Eileen Carney, Democrat, are running for House District 1 representative. Absentee ballots have been sent and the polls will be open Nov. 2.
Gerald "Jerry" Bennett
Age: 54
City of Residence: Libby
Background: A longtime Libby resident (50 years), I attended Libby public schools and the community college, as well as trade schools for vocational training.
From 1975 to 1996 I was involved in many aspects of our local economy, stretching from the logging industry, to mining, to wholesale and retail markets. My family and I have owned and operated several businesses, and have operated our current business for the past 14 years.
I am currently state representative for House District 1. It is a joy to live in the Libby area, and a privilege to serve the people in this community, and across the state.
Eileen Carney
Age: 67
City of Residence: Libby
Background: I have lived in Libby for 35 years. I came originally to teach Spanish, French and English at the high school. I graduated from Carroll College and then spent four years in Guatemala, working in a small village with a mostly indigenous population. Since retiring from my job, I have been involved with Kootenai Pets For Life, the Heritage Museum, Women's Help Line, the Lincoln County Resource Advisory Committee, Community Advisory Group and Technical Advisory Group, and have served on the board for St. John's Lutheran Hospital. I was elected to the legislature in 2000 and served four years as Libby's representative. I served on the Tax Committee, Local Government and the Technology and Federal Relations committees.
Describe one issue that you will work for and one that you will work against as a legislator.
Bennett: For – As HD1 representative I have worked and will continue to work with others to move us to once again manage our own future. Not to be coerced with federal dollars, but to utilize the richness of this state. Whether it be timber, minerals, agriculture, oil and gas or new alternative energies, it should be for Montanans to decide.
Against – I believe the shortage of revenue will be one of the main issues, and I will not support an attempt to raise existing taxes or institute new ones. At a time of high unemployment and continuing job losses it is only right that government learn to do more with less.
Carney: For – Funding for schools is extremely important. We need to give our students as much preparation as we can to meet the 21st century world. Workers will have to change jobs continually and will need to respond quickly to new challenges. Thinking skills, work on computers, verbal skills, math and science all will be important. We need to reward our teachers for doing a good job by paying them what they are worth.
Against – Sales tax. This tax comes up constantly as a solution to all our funding problems. This is an unfair tax since poorer people pay a higher percentage of their income than do the wealthy. Too often the suggestion is that the business equipment tax should be lowered for out-of-state corporations (many of whom pay no income taxes in Montana) and replaced with sales tax. This is very bad policy and I would oppose it.
What areas of state government, if any, would you propose for reducing spending?
Bennett: Montana state government has grown at an accelerated rate over the last four years, so we must look across the board at government spending and the increase in the size of individual departments. It is imperative we curtail the gorging of the Montana taxpayer's dollar, and bring government in line with the true needs of its citizens.
Carney: We could save a lot of money in the corrections department. Currently, we incarcerate people who have not committed a violent crime and turn them into career criminals by exposing them to brutal, hardened criminals. Too often, they return to prison a short time after being paroled. We need to find a smarter, less expensive way of dealing with this population. A business called Exacu-Track has a good record of following criminals, having them report at specific times and keeping them out of trouble. We could reduce our need to build new prisons, which are ineffective and lower the costs for the criminals we do need to incarcerate. We could train non-violent offenders to abide by the law, to keep themselves away from friends who would lead them into trouble, work to support themselves and turn into productive citizens rather than returning to prison.
What are your views on the medical marijuana issue facing our state?
Bennett: The medical marijuana issue has sparked serious debate in cities and towns across Montana, as well as caused difficulty for our peace officers and legitimate card holders. I believe the legislature must act, along with the regulatory agencies, to manage the program based on the intent of the initiative. If we fail the people of Montana, then their right to repeal the initiative they passed must be exercised. The Montana Department of Health and Human Services estimated an increase of 300 new cardholders per year since 2005, yet as of June 2010 we have over 12,000 card holders. I believe the intent has been lost!
Carney: Rather than having the government dictate which pain relievers they could use, 62 percent of Montanans voted to allow patients to choose a natural, proven, effective cure with medical marijuana. About a quarter of the population experiences chronic pain and for many of them, pharmaceuticals are too risky, too expensive and have too many side effects.
Laws regulating usage need to be tightened and marijuana should only be dispensed in commercially-zoned establishments. It must be safe and dispensers must be tested on their knowledge of the drug. A bill under consideration in the 2009 session might have solved some of these problems but it was killed.
---