THS falls just short in home-turf thriller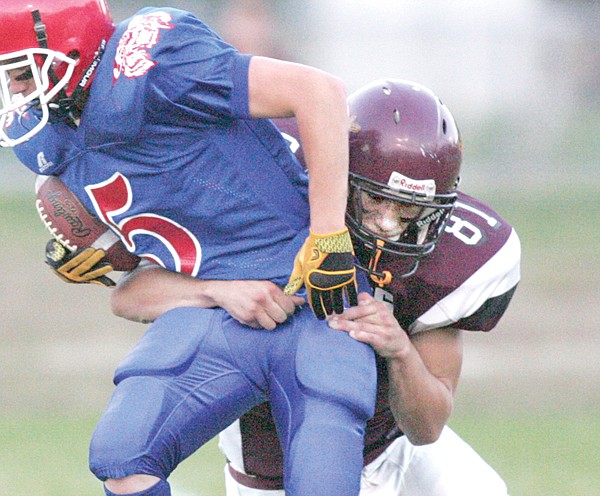 Troy's Tommy Nyland tackles Superior's Adam Kay in the backfield during Friday night's game.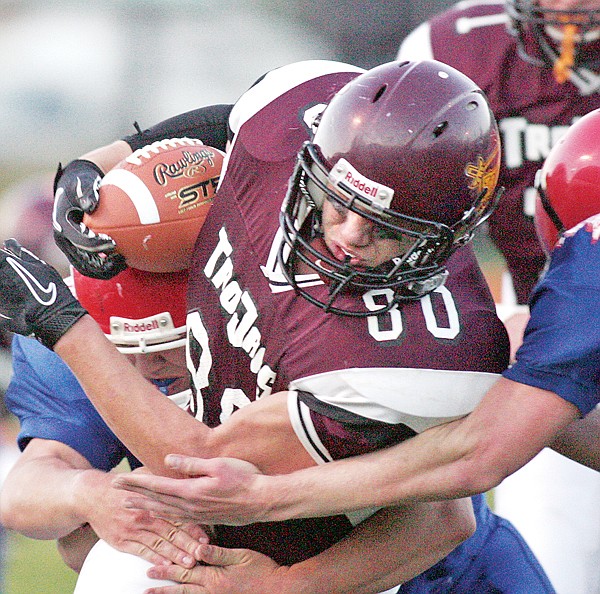 Troy's Kody Hoffman made the Class B all-state team at both wide receiver and middle linebacker.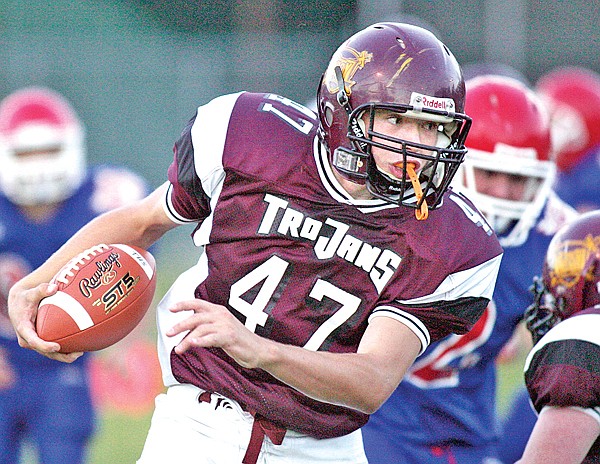 Cory Orr carries the ball against Superior.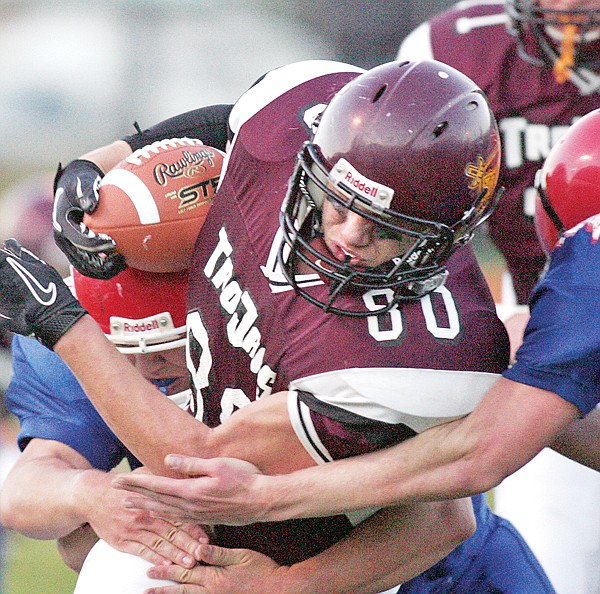 Troy's Kody Hoffman bulls ahead for a first down in the first quarter against Superior.
Previous
Next
by
Brad Fuqua & Western News
|
October 5, 2010 3:56 PM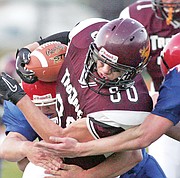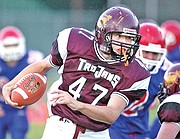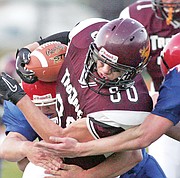 Clinging to a two-point lead past the midway point of the fourth quarter, Troy would need a strong finish to hold off visiting Superior. Unfortunately for the Trojans, a series of miscues helped their nonconference opponent escape town with a 14-8 victory.
"Mistakes, mistakes, mistakes," Troy coach Rich McElmurry said afterward. "We didn't take care of the ball very well … we made some poor decisions."
The Trojans led 8-6 in the fourth quarter when things began to unravel over the final 5 minutes. First, the Bobcats beat the THS secondary on a 31-yard touchdown pass down the sideline. Senior QB Tanner Coon connected with sophomore Adam Kay for their second score of the night. The same duo followed with a two-point conversion for a 14-8 lead.
Troy had opportunities on its final two possessions. After Superior's TD, the Trojans came right back with good field position by setting up at midfield. On second down, Mikey Ormistion found Derrick Winslow, who made a juggling catch for 23 yards. But on the next play, Troy fumbled the ball away inside the 30.
"We found out we could run the ball against them and we did," McElmurry said. "On the fumble by Cory down there … I thought there was a long delay and then the ball comes out. They didn't blow the whistle."
On the play, it appeared that Orr had been stopped following forward progress. An ususually late whistle followed and in those few moments, the Bobcat defense caused a fumble that Kevin Ryan recovered.
The Troy defense responded with big plays to get the ball back for one last shot. On fourth-and-2, senior Tommy Nyland had a tackle for a three-yard loss and the Trojans took over on downs at the Superior 48.
Troy could not move the ball, however. On third down, a pass from Ormiston bounced off the intended receiver. On fourth down, a bad snap in shotgun formation led to a 17-yard loss.
"The kids played very hard tonight," McElmurry said. "We had good lead blocking, opened up some holes for Cory (Orr)."
Neither team managed points over the first two quarters. Superior threatened in the final seconds of the half but Troy's goal-line defense came up big. The Bobcats had first-and-goal at the 5 but managed only three yards on three straight running plays. On fourth down with 3 seconds left, Superior went for the TD but got called for illegal motion as the clock ran out. Since the penalty was on the offense, the half ended.
"I felt we were fortunate to be 0-0 at half and I thought we were pretty good to come back from down 6-0," McElmurry said. "We hadn't moved the ball very well but then we started to move it a little in the second half. I thought we were going to get them."
Superior took a 6-0 lead with 4:58 left in the third quarter. Kay set up the TD drive with a 42-yard punt return to the Troy 43. Coon and Christopher Eriksson hooked up for a 15-yard gain and the Bobcats got another 15 yards on a Troy facemask penalty. Two plays later, Coon found Kay on an 11-yard TD.
The two team's traded possessions before the Trojans reached the end zone to take the lead. Troy went 53 yards in seven plays but not without a little controversy.
On first-and-goal at the 9, Orr powered into the end zone for an apparent touchdown. One official signaled TD, another saw Orr fumble and to top it off, an inadvertant whistle stopped the play. Following a long conference, officials ruled that the down should be played over.
Orr got the ball again on first-and-goal and made it down to the 1. Following a one-yard loss, Orr scored from two yards out on third down. Ormiston ran in the two-point conversion and the Trojans led with 8:05 remaining in the game.
"I was really happy our kids responded and scored," McElmurry said.
Superior responded late, however, to grab its third win in five games. Coon finished with 79 yards rushing and 157 yards passing for the Bobcats.
Orr had 62 yards rushing on 15 carries for Troy. Ormiston completed 11-of-22 passes for 81 yards. Winslow had three catches for 21 yards and Kody Hoffman and three receptions for 16 yards. Ryan Rayson had a pair of catches for 24 yards.
Troy (1-2, 2-3) faces Florence on Friday in the team's final home game of the season.
Superior 14, Troy 8
Friday at Troy HS
Scoring by Quarters:
Superior    0    0    6    8—14
Troy          0    0    0    8—  8
Third Quarter
S–Kay 11 pass from Coon (kick failed), 4:58
Fourth Quarter
T–Orr 2 run (Ormiston run), 8:05
S–Kay 31 pass from Coon (Kay pass from Coon), 4:58
                              S             T
First downs          16            11
Total Yards         300          189
Rushing Yards   45-143    31-108
Passing Yards    157           81
Comp-Att-Int    11-26-1    11-22-1
Punts-Avg.         5-31.2    6-33.2
Penalties-Yards   8-50      5-45
Fumbles-Lost       2-1        5-3
INDIVIDUAL STATISTICS
RUSHING—Superior, Coon 22-79, Kay 9-26, Eriksson 5-15, Haberlock 3-12, Ryan 6-11. Troy, Cory Orr 15-62, Hoffman 5-37, Ormiston 9-6, Winslow 2-3.
PASSING— Superior, Coon 11-26-1-157. Troy, Ormiston 11-22-1-81.
RECEIVING— Superior, Eriksson 4-20, Kay 3-70, Frederick 2-42, Smith 2-25. Troy, Winslow 3-21, Hoffman 3-16, Rayson 2-24, Nyland 1-16, Garcia 1-5, Cory Orr 1-(-1).
MISSED FIELD GOALS – None.
---