Rapids U12 soccer boys 2nd at Butte tournament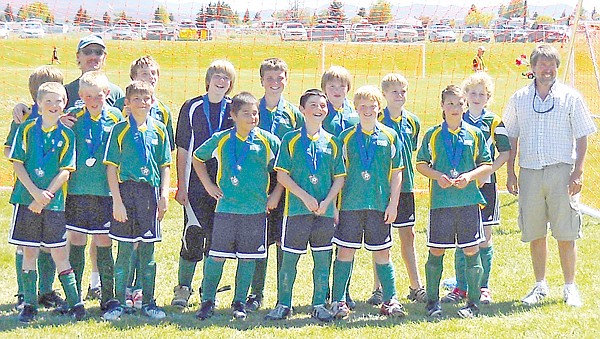 The Kootenai Rapids U12 boys team, from left, front, Jonny Cielak, Isaiah Sickler, Devon Lacoss, Giovanni Cano, Johnathon Davidson, Jacob Stenros and Bailie Rosling; back, Bohdan Yakovenko, Assistant Coach Guy Davidson, Colin Maloney, Zander Petersen, Nik Neumann, Jared Laveway, Nik Gear, Anna Carlson and Coach Mark Petersen.
by
The Western News
|
July 22, 2010 2:05 PM
The Kootenai Rapids U12 boys team took runner-up honors in the recent Montana Showcase Jamboree in Butte.
The Bozeman Blitz downed the Rapids in the championship game, 4-2. Jonathon Davidson and Colin Maloney scored Kootenai's goals.
The Rapids played their way into the finale with wins of 7-0 over the Butte Marauders and 5-2 over the Helena Arsenal.
Against the Marauders, Davidson had a hat trick with three goals. Colin Maloney scored twice with single goals from Bohdan Yakovenko and Zander Petersen. Petersen and Jonny Cielak each saw time in goal for the shutout.
Coach Mark Petersen said Niklaus Gier, Giovanni Cano, Jared Laveway and Jacob Stenros all played well in the midfield. Anna Carlson and Nicklaus Neumann also contributed in the shutout.
The Rapids then took the three-goal win over Helena. Davidson scored on a pass from Cielak just 17 seconds into the game. Maloney had a strong game with three goals and Davidson also scored a second.
The coach credited Isaiah Sickler and Bailie Rosling with strong defense while Devin LaCoss and Yakovenko played well in the midfield.
"This was a great end to a very fun season that started in January indoors," Petersen said. "Every player deserves special recognition ... the season saw each of the players improve their soccer game dramatically. It's a bittersweet feeling to have the season end."
---