Jam-packed in jail: County's female inmates find little elbow room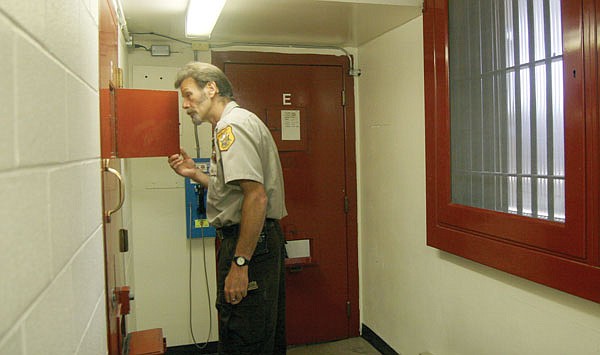 Detention Center Captain Jerome Schad checks on inmates early Wednesday morning. In the cell behind him, seven female inmates were jailed – five more than the intended capacity.
by
Canda Harbaugh & Western News
|
July 22, 2010 3:11 PM
Lincoln County Undersheriff Jerry Rust recently sent out a message to deputies – don't arrest women unless you have to.
"If it was a citation where you could cite and release and it wasn't a danger to society, then cite and release them on a misdemeanor," Rust said. "If it was a domestic (violence offense) or DUI or something like that, bring them in and book them."
The one cell in the small county jail designated for two women held seven female inmates Wednesday morning with the likelihood that one or two more would be added by the end of the day.
The jail cell has a front "day area" for eating, reading or playing cards and a back area with two bunks, a shower and a toilet. It's more spacious than a prison cell because inmates don't leave their cell often.
The female inmates slept sprawled out on the cement floor with bedrolls, an open path leading to the back room.
"You can see the whole floor is littered with people sleeping," Detention Center Captain Jerome Schad said as he looked in.
The cell has held up to 10 women before, but they are conditions that detention officers do not enjoy.
"I don't like it, but we don't have any choice," Schad said. "Of course that puts everyone on edge and grumpy and ready to sue us."
The Lincoln County Detention Center is like most rural jails in Montana – cramped and outdated and ripe for a lawsuit, though officers say they've done what they can with what they've been provided.
"This has been ongoing for years. We've had meetings and set up a regular task force to look at it," Sheriff Daryl Anderson said. "We even thought about doing a bond issue, though we know it would never pass in Lincoln County. We've been doing that to cover all our bases because we know we'll get sued eventually."
Federal guidelines require inmates to have a specified amount of unencumbered space – space that excludes bunks, bathroom fixtures and swinging door space. With inmate care and jail operations already eating up roughly 20 percent of the sheriff's $3 million budget, the only way to update the jail or add more cells or beds is through a levy, loan or grant.
The American Civil Liberties Union filed suit against Lake County commissioners in the 1990s for jail overcrowding that led to a homicide. The county agreed to remodel the jail with $500,000 in tax money as part of a settlement.
"If it comes down to Lake County, where some judge says here's what you're going to do, where's the money going?" Rust said. "Do you want to give it to someone (for punitive damages) and then still have to make the changes?"
The 25-bed jail has held up to 43 inmates, Schad said, but usually the number is in the 30s during the summertime and somewhat lower in winter. Even when there is a free bed in a cell, many times it can't be utilized because an inmate must be isolated or certain inmates can't share a cell.
Schad wrote a letter to county commissioners requesting funding to expand the jail when he became head of the detention center just shy of 20 years ago.
"Over the years we've tried to push that and move it along," he said.
The original jail was built sometime in the early 1900s, according to Schad, and the "new" section was added on in 1978.
The county secured a $500,000 loan six years ago that would have gone toward adding 15 more beds, a padded cell for mental patients and various other renovations to meet pressing security and safety needs. It was also meant to forestall the construction of a new facility.
"It would have been a good fit," Schad said. "It was a significant improvement."
Unfortunately, the three bids that came in pegged the cost of the project at over $1 million, double the cost that the county's architectural firm estimated. As a result, county commissioners dropped the upgrade.
"It was beautiful what they could have done," Anderson said. "Something happened with these contractors."
---