Conrad Roy Futrell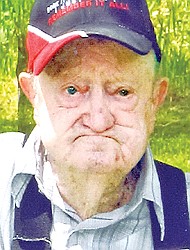 Conrad Roy Futrell, 97, of Libby died Tuesday, July 20, 2010 at St. John's Lutheran Hospital.
Conrad had been a resident of the Libby Care Center.
He was born Oct. 25, 1912 in Cadiz, Trigg County, Ky., the son of Charles Albert Futrell and Zelphia Sedelia Jones. He was the oldest of six children.
He migrated west to Brigham City, Utah with the Civilian Conservation Corps camps, where he met and married Nola Ramsay. He worked at several jobs, including trucking, powderman and oiler.
Conrad served in the U.S. Navy near the end of World War II. He lived in Buhl, Idaho with his family for many years before moving to Hells Canyon, Ore., to work on Hells Canyon Dam in 1966. In 1968, he moved his family to Libby to work on the construction of Libby Dam. The area appealed to him and he retired in Libby.
He had a full life filled with the things he enjoyed most. He loved the outdoors here in Montana – fishing and hunting during each season. 
He was preceded in death by his wife, Nola Ramsay Futrell; a daughter, Arlene Lois Futrell; and a son, David Dean Futrell.
He is survived by his children, Conrad Ray Futrell and wife Donna of Libby; Audrie Lee Whitt of Norfolk, Va.; daughter-in-law, Nancy Futrell of Weiser, Idaho; Dennis W. Futrell and wife Louise of Vancouver, Wash.; Derryl L. Futrell and Anita Mangrum of Filer, Idaho; Michael Bruce Futrell of Twin Falls, Idaho; and Shirley J. Brown and husband Bob of Troy; a brother, Homer Boyd Futrell of Cadiz, Ky.; a sister, Velma Futrell of Evansville, Ind.; 23 grandchildren, 35 great-grandchildren and two great-great-grandchildren.
Funeral services will be held at the Church of Jesus Christ of Latter-day Saints, Libby Ward house, on Saturday, July 24 at 2 p.m.
Schnackenberg & Nelson Funeral Home handled arrangements.
— — —
(Information submitted by survivors).
---