Birth: Tyssen James Bothman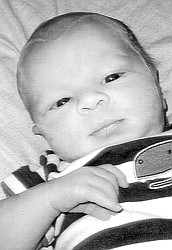 Birth: Tyssen James Bothman
Jamey Butler and Tyler Bothman announced the June 23, 2010 birth of their son, Tyssen James Bothman.
The baby was born at 4:14 a.m., at Kalispell Regional Medical Center. He weighed 8 pounds, 6 ounces and measured 22 1/4 inches in length.
Paternal grandparents are Rocky and Georgia Bothman of Libby. Paternal great-grandmother is Marge Bothman of Green Valley, Ariz.
Maternal grandmother is Maggie Bonovich of Boise, Idaho.
---